November 11, 2017 - 9:15pm
Byron-Bergen/Elba will play for soccer state championship after 4-0 in semifinals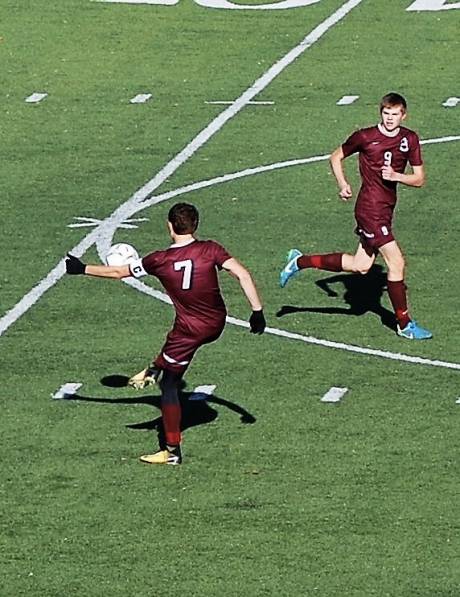 Four second-half goals propelled the Byron-Bergen/Elba Bees boys soccer team into the state finals as they beat Lake Placid in the Class C semifinals today, 4-0.
The #1 ranked Bees play for the state championship tomorrow at 10:30 a.m. in Middleton.
Photos and the following write-up by Rob Swapceinski:
The Byron-Bergen/Elba Bees took on the Lake Placid Bombers for the NYS Class C Semi-Finals in Middletown, NY. The BB/Elba team got off to a strong start with multiple scoring opportunities in the first half.

The Bombers withstood the BB/Elba attackers and the first half remained deadlocked at 0-0. The BB/Elba team continued putting pressure on the Lake Placid defenders early in the second half. The Bees broke through the Bombers defense when Adam Swapceinski fed Kyle Foeller for the games first goal.

But Swapceinski didn't stop there and, within minutes, scored two goals of his own. Late in the game, Wade Thompson beat multiple defenders before blasting a shot past the Lake Placid goalkeeper to put the Class C Semi-Final game out of reach. Bee's goalkeeper, Brandon Kropf recorded his sixth shutout, in a row, in postseason play.

The Byron-Bergen/Elba Bees play for the Class C State Championship on Sunday, Nov. 12, at 10:30 a.m. in Middletown, NY.