May 6, 2018 - 8:02pm
Candidate for governor visits Batavia, says he's ready to represent all of the people of New York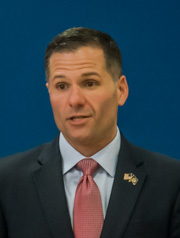 As a man who grew up in a house that sometimes relied on Food Stamps, Marc Molinaro would like to take the governor's office away from Andrew Cuomo and become a leader who represents all New Yorkers, the Duchess County elected executive said during a visit to Batavia on Thursday.
"I just know how difficult it is to live in the State of New York and I want families all across the state to know that that I care personally," Molinaro said during a press conference at the ARC Community Center or Woodrow Road.
"I've been able to achieve some success in my life, but most importantly, I never forget where I came from. There are good and decent people who just want a government and a governor that will stand up for them."
Molinaro, running for governor, took a few shots at Cuomo during the 10-minute conversation before an event where he talked about a program in Dutchess County that provides a broad range of assistance and recognition for citizens with special needs.
The day before, Cuomo, while proclaiming New York the leading progressive state in the nation, said, "New York is the alternative state to Trump's America and we're proud of it." Molinaro said he doesn't even know what that statement means.
"I really lost track of the number of irrational things the governor has said," Molinaro said. "I mean, quite frankly, two weeks ago he announced he is the government. Then he announced that he was raised by immigrant middle-class citizens, and then he said that he was, in fact, an undocumented citizen himself. He also says that he pays property taxes. None of those things have ever been proven true."
Later in the conversation, Molinaro said -- echoed by Assemblyman Steve Hawley, who was hosting his visit to Batavia -- that if Andrew Cuomo wants to run against President Donald Trump, then he should go do that. He's running to represent the people of New York.
"I really think we need to talk about where this state has been over the last seven years," Molinaro said. "I was somebody who, when he came into office, was thinking that this governor was going to sweep in a new day. Instead, we have this entrenched new normal. I think New Yorkers, regardless of party affiliation, know that there's a question of competency. And certainly, there's a question of whether or not the state is any more affordable today than it was seven years ago. It is not."
Molinaro was critical of Cuomo's economic development efforts, which has focused on billions of dollars in tax breaks and grants for private enterprise, including: a $10 million prize to Batavia; support for the Western New York Science and Technology Advanced Manufacturing Park in Alabama; and the agribusiness park in Batavia.
"First, we have seen this economic development model on trial for the last several months," Molinaro said. "It is clear that the governor's chief assistant sold his office to the highest bidder and was brought to justice. It was as a result of what is an unaccountable process that allows the governor to hand out dollars to private interests. It's going to be on trial again over the next several months in the Buffalo Billion corruption scandal. It is not appropriate for a democracy to have any one person have the kind of authority and latitude with no transparency."
He said New York needs procurement reform and a database of deals so people can actually see how economic development money is being spent.
"No we shouldn't be taking money from taxpayers to give to private interests to compensate for the fact that the state of New York took too much money from taxpayers to begin with," Molinaro said. "That's not economic development. It's a form of money laundering.
"At the end of the day, this is their money. This is taxpayers' money to begin with. We're supposed to be grateful that he's giving it back?"
Molinaro said the State needs to decrease the burden it places on everyday New Yorkers. He said taxes need to be lower; the cost of doing business in New York need to be lower and that government should invest in the people of New York.
"I come from a place called Tivoli," Molinaro said. "When I moved there in 1989 with my family I told my granddad we were moving to the middle of nowhere. I have always lived and worked with people who feel a little bit left out. I'm here today because there are citizens all across the state with disabilities who often feel a little bit left out. Help is on the way. I care deeply about the fact that too many parts of the state and too many families across New York feel that their government doesn't listen."
He said because of his background and experience in government, which includes time in the Assembly, he knows how to make New York work for everybody.
"I understand and I know the way government's supposed to function," Molinaro said. "I've spent every day of my adult life bending government to serve its people. I know that this government, in particular, New York state, is too big. It's too bloated. In many ways, it's too arrogant. We have to focus on making it easier for families. You know I didn't grow up in a famous political family. I wasn't born into money. I am a middle-class New Yorker."
To win, Molinaro knows he will have to bridge the gap of a Republican-leaning upstate and a Democratic-leaning downstate, where most of the voters live.
He said he can do that by being true to himself.
"I'm a pragmatic person and no matter where it is, I begin from my perspective, my goal, is to find commonality," Molinaro said. "What I want New Yorkers to know is that at the very least I intend to redefine what it means to be in government; to redefine the way government functions and to redefined democracy in the state of New York.
"I'm not running to be the governor of a political party. I'm running to be governor of the State of New York. I want residents, regardless of ideology, to know that they're going to have a government and a governor that's going to listen to them and strive hard to bring people together."