November 8, 2018 - 12:23am
Car reportedly hits tree on Batavia Elba Townline Road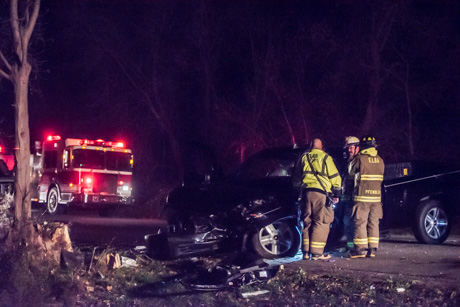 A car has reportedly hit a tree in the area of 5103 Batavia Elba Townline Road, Elba.
The caller reports the driver to be semi-alert.
Elba fire and Mercy EMS dispatched.
UPDATE 12:27 a.m.: Patient unconscious. Checking on the availability of Mercy Flight. All available manpower to the scene.
UPDATE 12:32 a.m.: Mercy Flight requested to the scene.
UPDATE 1:22 a.m.: The patient was just extricated from the vehicle.
UPDATE 1:36 a.m.: Mercy Flight is airborne and headed to Strong Memorial Hospital in Rochester.
UPDATE 2:36 a.m.: The female driver suffered a serious leg injury. The accident was discovered by a driver passing by. None of the residents on that stretch of Batavia Elba Townline Road heard the accident. The time of the accident is unknown and it's hard to say how long after the accident it took for somebody to come across it. The driver was sedated so she couldn't be interviewed so deputies at this point do not know how the accident occurred.