May 2, 2016 - 10:36am
Ceramics shop opens on Ellicott Street, Batavia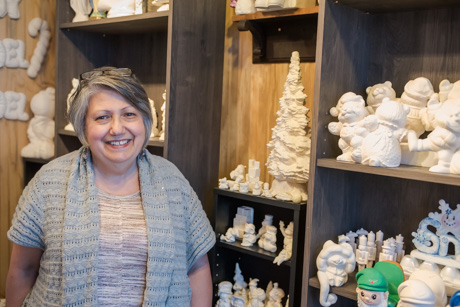 Another old thing that's new again is ceramics.
Decades ago, buying clay figurines and painting them according to your own craft or whimsy was quite the thing, but then the hobby kind of faded away.
It's starting to make a comeback, which is one reason Shirley Nigro-Hill decided to open a ceramics shop on Ellicott Street in Batavia.
Nigro-Hill taught ceramics in the 1970s before establishing a reputation in dolls, but when her daughter moved back here from Florida and couldn't find what she needed to continue her ceramics crafting, they decided to open up the shop in a building she owns on Ellicott.
They already had the kilns and slips, which puts them in a unique position for most ceramic shops these days -- they pour and fire most of what they sell.
"I guess that's unusual for the day, but I'm back from the old school," Nigro-Hill said.
The type of ceramics is called "Bisque wear."  
The shop, Fired Up - Ready to Paint Ceramics, opened last week.
Customers can purchase a figurine and paint it in the shop with acrylic paint and it will be dry and ready to take home by that evening, or they can take it home and paint it at home.
Nigro-Hill said the shop also offers classes for both adults and children and also offers group events.
Fired Up, at 216 Ellicott St., is open noon to 8 p.m. Wednesdays and Thursdays, noon to 6 p.m. on Fridays, and 10 a.m. to 5 p.m. Saturdays.