September 10, 2019 - 10:16am
City historian completes 'bucklet list' trips to other Batavias with trip to Montana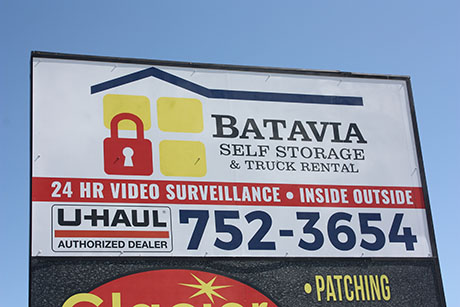 Article and photos by Larry Barnes, historian, City of Batavia
Our community was founded in 1801 by Joseph Ellicott, chief surveyor and resident land agent for the Holland Land Company. The collection of buildings that grew into the City of Batavia stood on land owned by the Holland Land Company. In fact, beginning in 1797, these Dutch investors were the owners of most of Western New York after purchasing well over three million acres from Robert Morris. (Note that the purchase involved granting $100,000 to the Seneca Indians and the establishment of several Indian reservations.)
The homeland of the Dutch investors was the country that today we call "the Netherlands," but back then was known as the "Republic of Batavia." (Here's a Wikipedia link about it.) Our community's name was chosen as a way of recognizing and honoring the investors' homeland. Since then, at least eight other American communities have come into existence with the name, "Batavia." They are located in Ohio, Michigan, Wisconsin, Illinois, Iowa, Arkansas, Montana, and California. However, none of these other places had anything to do with the Holland Land Company.
As City Historian for our Batavia, I have been visiting the other Batavias to learn their history, to visit with their residents, to discover the origin of their names, and to take photographs. My first such trip was to Batavia, Ill., in the spring of 2011. Two weeks ago, I visited Batavia, Mont., the final community on my "bucket list."
The Batavias range from an incorporated community with 27,000 people in Illinois to unincorporated communities with only a "handful" of people. Batavia, Mont., located in Flathead County, is among the latter. In the 2010 Federal Census, the population was reported to be only 385 individuals.
In every other instance, I have been able to learn about the Batavias in question by visiting local libraries and/or museums and historical societies. To my surprise, such sources were of no use with this final Batavia. When I visited the county library in Kalispell, the county seat and a short five miles away from Batavia, Mont., the librarian in charge of the local history collection claimed not to have heard of the community.
And, when I visited the local history museum, also in Kalispell, the staff was aware of Batavia but had no pictures or other material connected to it. Consequently, I have had to rely on what I could discover primarily through Google and census data from 2010.
According to the federal census, Batavia, Mont., covers an area of 1.79 square miles. Highway 2, the principal highway spanning northern Montana runs through the center of the community. A paved cycling and walking trail built on an abandoned railroad right of way parallels the highway. Also parallel to Highway 2 is Ashley Creek.
Both housing and commercial operations are distributed across the area in a manner that leads to an absence of any concentration.
Strangely, there is also no signage indicating when one has entered Batavia. Together, these two things create a situation where there is an absence of a clearly defined community; and that may account for why the librarian with whom I spoke claimed not to know about its existence. I was able to tell where the community's boundaries are located only by referring to a census map.
In Batavia, Mont., there is a handful of commercial enterprises that include a single gas station combined with a convenience store. The most prominent business sells tractors and other agricultural and/or construction implements. Most of these businesses are located on Highway 2. An exception is an enterprise named "Batavia Self Storage & Truck Rental" located on a side road named "Batavia Lane."
Most of the houses are located on the several side roads that intersect with Highway 2. By our standards, the housing is expensive with the average value well in excess of $200,000. And, in contrast with our Batavia, the great majority is owner-occupied. One home that was under construction, and I found rather fascinating, resembled a castle.
There is also one school in Batavia, Mont. It serves K-8. An "old-timer" told me that it once bore the Batavia name, but it is now named "Smith Valley School." It stands at the intersection of Highway 2 and Batavia Lane.
The most interesting feature of the community is the Batavia Waterfowl Production Area, which exists under the auspices of the U.S. Fish and Wildlife Service of the Department of the Interior. Ashley Creek flows through it. Created in 1975, it consists of 340 acres of upland and 170 acres of wetlands and marsh. There are several artificial impoundments with nesting islands and man-made dikes. It is said to be an especially good habitat for Canada Geese.
Finally, there are a few things of particular note that I learned about the residents of Batavia, Mont. They are 96-percent white. Somewhat over half are male and the median age is around 35. Among those age 25 or older, about 12 percent have a bachelor's degree or higher.
As with residents of our area, they appear to be comparatively conservative in their political views. Residents of Flathead County have consistently voted Republican in presidential elections. In 2016, nearly two-thirds of county residents voted for Trump; and there is no reason to think the Batavians would have been any different.
Almost 70 percent of the county residents in 2010 reported no religious affiliation and I suspect, again, that the Batavians would not have differed significantly from the county residents over all.
In closing, I wish I could, with certainty, explain how Batavia, Mont.,came to have its name. Of the nine Batavias in the United States, only this one on Montana and the one in California are a total mystery. My best guess is that, as was the case with several other Batavias, someone from our part of the world was an early settler.