October 17, 2018 - 10:20pm
Collins says he's innocent and he may have narrow path to beat insider trading case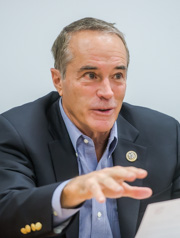 Rep. Chris Collins says he will clear his good name when his insider trading case goes to trial in February 2020.
But to do that he may need to convince a jury that he didn't tell his son about a failed medical trial for a new drug developed by Innate Immunotherapeutics when Collins called him from the White House lawn June 22, according to an attorney who specializes in insider trading law.
Robert Heim is a former Securities Exchange Commission attorney who now works as a private defense attorney for those accused of violating securities laws.
"Perhaps Mr. Collins might argue that somehow the information was either public or had been leaked out, but on its face, it seems like a very difficult case for him to beat right now," Heim said.
Neither Collins nor his attorneys have shared what his defense might be, but as Heim acknowledged, prosecutors have a lot of evidence related to the number and timing of phone calls, text messages, and trades, which is why Collins will need to offer a convincing explanation for the June 22 phone call.
On June 22, at 6:55 p.m, Collins received an email from Innate's CEO, Simon Wilkinson, informing Collins, who was among the company's largest shareholders and a member of Innate's board of directors, that a critical trial for a new multiple sclerosis drug had failed.
"I have bad news to report," Wilkinson wrote, according to government documents. "The top line analysis of the 'intent to treat' patient population (i.e., every subject who was successfully enrolled in the study) would pretty clearly indicate 'clinical failure.' "
Innate was a single-product company and the trial's failure meant it would not bring that drug to market.
Collins responded at 7:10 p.m., according to prosecutors, "Wow. Makes no sense. How are these results even possible???"
According to prosecutors, Collins immediately attempted to contact his son, Cameron Collins. He called Cameron twice. Cameron called back three times. Chris Collins called him back. On their seventh attempt to connect, at 7:16 p.m., father and son finally spoke with each other.
Chris and Cameron spoke for six minutes and eight seconds.
There was no wiretap on the phone call, and prosecutors have not indicated that they have any direct knowledge of what Collins told his son.
Prosecutors will attempt to prove Collins told Cameron of the failed MIS416 trial, disclosing nonpublic information, knowing it was a breach of his duties and anticipating his son would trade on the information and tip others.
Heim said Collins will need to convince a jury that he discussed with Cameron something other than the MIS416 trial, be it the weather, or "wow, I'm at the White House," wedding plans, or some other topic that seemed urgent at the time.
"I've worked on insider trading cases like this for about 20 years now and almost always these are circumstantial cases," Heim said. "People rarely come in and admit to committing insider trading, so a jury is going to really have to look at the various facts in terms of timing the phone calls, the timing of trades, and people's explanations to really come up with a decision as to what's more likely: Was this inside information discussed? Or were they talking about other things and this just happens to be very poor coincidental timing?"
If the failed drug trial was a topic of the June 22 phone call, Heim indicated Collins is going to have a hard time proving his innocence, especially in a Second Circuit court. The Second Circuit, he said, has a "loose standard" on what constitute's "tipper liability."
"If you're passing on information, the inside information, to a family member that satisfies what's called the 'personal benefit test' that is required to be proven for the government to win an insider trading case," Heim said.
Chris and Cameron Collins, along with 66-year-old Stephen Zarsky, father of Cameron's girlfriend, Lauren, are charged with in Federal Court with conspiracy, securities fraud, wire fraud, and making false statements to FBI agents.
Lauren and her mother, Dorothy have already settled with the SEC.
The morning after receiving his father's call, according to the SEC complaint, Cameron started to act on the allegedly non-public information, including selling stock and tipping the Zarsky family.
If Chris Collins can successfully argue that he didn't tell his son about the non-public information, then Cameron may need to prove he obtained it from another source.
It's not illegal to buy or sell stocks on "insider information" if it was legally obtained. For example, if Cameron overheard his father or somebody else talking about the failed trial with a person who was authorized to share the information, he can do as he pleases with the information.
Barry Switzer, former University of Oklahoma football coach, was at a track meet in 1981 when he overheard a company CEO discussing his firm's plans. The next day, Switzer and his friends acted on the non-public information and eventually made $600,000 on the trade. Switzer was charged with insider trading, but a court ruled in Switzer's favor.
"The court said that that's not illegal as long as you're not breaching some sort of duty or someone's not telling you the information in violation of a confidentiality agreement," Heim said. "That a legitimate defense."
Cameron's case hinges entirely, it seems, on how he knew to dump his 1.4 million shares of Innate stock just before news of the failed trial went public.
"In order for that chain to be legally actionable it has to have as the source a breach of a fiduciary duty or some other duty that's owed to the company and its shareholders," Heim said. "And that Cameron received that information separately, not from his father but by perhaps overhearing a conversation. Then if he's successful in that argument then, yes, he's free to tell other people about that information and essentially tip them because he did not breach his duty in the first instance by acquiring that information."
Besides the record of phone calls, texts, and trades, the prosecution may have other evidence that  is not yet publicly disclosed, Heim said. We also don't know how Lauren and Dorothy Zarsky, or others, might cooperate with the prosecution. There could have admissible information that supports the prosecution's theory that Chris Collins tipped Cameron Collins.
Witness testimony gets complicated, Heim said, because of trial rules involving hearsay and spousal privilege but there could be supporting witness testimony that is used at trial.
Without wiretaps, Heim said, "this could come down to a he-said-she-said type of scenario."
Based on the evidence made public so far, Heim said it seems like the government has a pretty solid case.
"It looks like there was a very thorough investigation, Heim said. "They put together the best evidence they could into a circumstantial case. Now I think really falls on Mr. Collins to come forward with some explanation or evidence as to what other topics were discussed in the calls and why they were being made at that particular time."
Photo: File photo.
NOTE: The Batavian has requested multiple of times an interview with Rep. Chris Collins. He has not agreed to an interview so we have been unable to ask him questions related to his insider trading case or even questions relevant to his bid for reelection.
October 18, 2018 - 8:20am
#1
Let me guess. Maybe Collins, who was on the white house lawn at the time of the alleged call, mysteriously teleported to his sons house and made an alleged call back to Innate Therapeutics board to discuss the failure of the drug that was about to cause to company stock to plummet. Or maybe Collins had another phone in his other hand while he was simultaneously talking to Innate and his son at the exact same time. Maybe he told his son to go check his personal email. I don't see how this is really possible.
The one clear thing that is pretty clear in the current scenario is that Collins received non-public information. Allegedly he made an attempt to contact his son afterwards. Both of them have substantial shares in Innate so it would make sense that with the alleged actions afterwards that non-public information was passed from father to son and so on. This culminating in those just-in-time trades on the market saving them from massive losses. That much its self looks pretty bad for Collins.
On a side note, every time I read "will clear his good name" and "Chris Collins" in the same sentence, I can't help to giggle.
October 18, 2018 - 8:01pm
#2
chris was just starting to turn his life around.... he was such a good boy ....... now he's heading to prison.. #convictchris