Image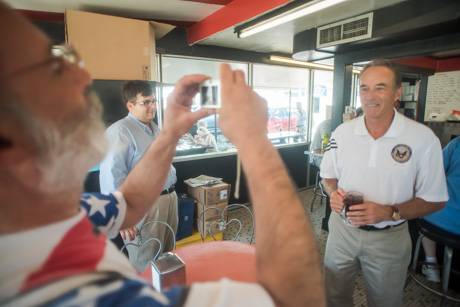 Rep. Chris Collins was in town today for a meeting at the VFW and we caught up with him afterward at the Pok-A-Dot. Collins often stops at the Dot for breakfast, but hadn't tried the Dot's famous beef-on-weck before today*.
We asked Collins for his thoughts on the tragic events of the past week and what Congress might be able to do about events like these.
He said these are complex issues that, unfortunately, too many people want to politicize or try to solve with simplistic suggestions.
"If you're going to talk about tragedies, the shootings, the murders, what we need to do is come together as a nation, address the root cause of our problems and hope people can come together," Collins said. "That doesn't mean it's solved overnight, but that's the direction we go, with a conversation together, identifying root causes, finding the solutions."
Collins, who is supporting Donald Trump for president, doesn't think the present administration is up to the task.
"The biggest problem we have is we have is a president who isn't interested in that (finding common ground)," Collins said. "He politicizes every tragedy. He tries to make political points out of every tragedy, and in doing so he's divided our country like it's never been divided before."
Collins hopes the next administration will do better.
"The next president, whoever that is, has to bring our nation together," Collins said.
As for root causes, there are many, Collins said, such as mental health, terrorism and racism.
"Unfortunately, the country is just not working together," Collins said. "We're finger pointing. We're pointing fingers where maybe they don't belong and very simplistically and very shamefully, suggesting simplistic insulting solutions as if that's the solution when it's not. This is tough stuff, whether it's mental health, whether there are racial issues or not in that police department or not or this individual situation or another. It's not simplistic, broad-brush stuff. It's hard work."
CORRECTION: An aide says I'm wrong about the beef-on-weck. All three of us, he said, had a beef-on-weck together on the day of the primary election in 2012 and they've been "hooked" ever since. 
Photos: Local businessman Louis Andolora snaps a picture of Collins to add to his "Cyber Pok-A-Dot" page and then poses for a picture with the congressman.
Image