November 17, 2016 - 4:35pm
Community champion Joe Gerace passes away at 80
Batavia -- Joseph Richard Gerace, 80, proprietor of Gerace's Hair Care Center and along with his wife owned the former Bob Harris Realty Company, died on Thursday (Nov. 17, 2016) at the New York State Veterans Home in Batavia.
Mr. Gerace was born March 15, 1936 in Batavia, a son of the late Joseph A. and Sarah (Gazzetta) Gerace.
A 1955 graduate of Batavia High School, he served with the Army from 1957 to 1959. Prior to the hair care center he operated the Trailways Diner.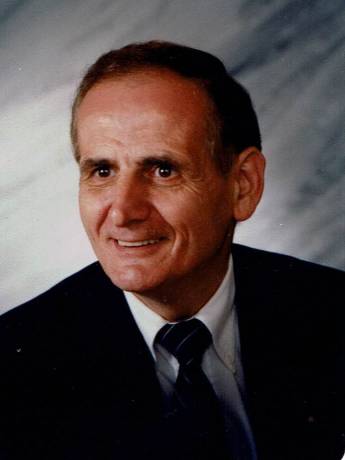 The lifelong Batavian was a member of many organizations, including: the Batavia Rotary Club, where he amassed 33 years of perfect attendance, served on the Board and also was the Sergeant at Arms; Knights of Columbus Fr. Vincent Capadanno Assembly 0755; Msgr. Kirby Council #325; City of Batavia Republican Committee, which he chaired for many years; Batavia Muckdogs Board of Directors and was on the team's Wall of Fame; Genesee Cancer Assistance program, where he served on the Board since its inception and founded the Simply Beautiful Hair Service; Resurrection Parish; former St. Nick's Social Club; Batavia Youth Bureau; and a past president and co-chair of the Festival of Hope; Genesee Cancer Assistance golf tournament committee; and was on the city of Batavia zoning board for 12 years.
He was an avid New York Yankees and Buffalo Bills fan. He proudly attended each Super Bowl the Bills appeared in and was on the Founders Wall at the New Era Stadium tunnel entrance, recognizing season ticket holders since the beginning of the Buffalo Bills in 1960.  A favorite activity of his was the large selection of Christmas lights he displayed each year at his home.
Among the recognition and awards he received over the years included the two-time recipient of the Paul Harris Fellow Award, which is Rotary's Club highest award, 2008 Humanitarian Award presented by the United Memorial Medical Center Foundation and the Jerome Foundation, 2006 Volunteer of the Year Award for the city of Batavia, Italian-American of the year awarded by the Batavia Downs and a similar award from the Paolo Busti Cultural Foundation, 1993 Geneseean of the Year and the Batavia Lions Club Italian American Award.
Surviving are his wife, Lois (Wagner) Gerace, of Batavia, whom  he married July 16, 1960; two sons, Robert J. Gerace  and  John P. (Rhonda Saulsbury) Gerace, both of Batavia; one daughter, Karen A. (Scott) Rowland, of Perry; one brother, Alfred J. (Patricia) Gerace of Ft. Lauderdale, Fla., and one sister, Theresa (late Joseph) Irrera, of Batavia. He is the grandfather of Ashley Gerace, Chelsea (Josh) Smith, Justin Gerace and Kirsten Rowland, Lindsey Rowland and David Rowland. Several nieces, nephews and cousins also survive. 
He is a brother of the late Louis Gerace and Sarah Bateman.
Family and friends may call on Saturday and Sunday from 3 to 6 p.m. at the Bohm-Calarco-Smith Funeral Home, 308 E. Main St., Batavia. The Knights of Columbus #325 will hold a prayer service on Sunday at 5 p.m. His Mass of Christian Burial will be celebrated at 9:30 a.m. on Monday at Resurrection Parish -- St. Joseph's Church, 303 E. Main St., Batavia. Burial with full military honors will be at St. Joseph's Cemetery, Batavia.
In lieu of flowers, memorials may be made to Crossroads House, P.O. Box 403, Batavia, NY 14021 or online at http://crossroadshouse.com/donations, or to Genesee Cancer Assistance Inc., c/o United Memorial Medical Center, 127 North St., Batavia, NY 14020 or online at http://geneseecancerassistance.com/donate/or to the New York State Veterans Home, Attention: Activities Fund, 220 Richmond Ave., Batavia, NY 14020.
Please leave a condolence, share a story or light a candle at www.bataviafuneralhomes.com.
November 17, 2016 - 4:39pm
#1
Billie and I are saddened by the news and wish to express our condolences to the Gerace family. Joe was a treasure and shining light for Batavia. He's the gold standard for community and civic involvement. We also feel we owe him a debt of gratitude. Though he wasn't much for going online, he immediately accepted us into the community when The Batavian arrived on 2008 and became one of our biggest boosters. His endorsement of our little experiment in online news went a long way toward our wider acceptance. We'll never forget all of the kindness Joe showed us over the years.
November 17, 2016 - 9:05pm
#2
He will truly be missed in the Batavia/Buffalo sporting venues and for his numerous charitable endeavors that benefited a number of organizations and residents of Genesee County. Not too mention his bus trips to see his beloved Yankees play!!