January 22, 2017 - 6:49pm
Corfu welcomes new chief, honors outgoing chief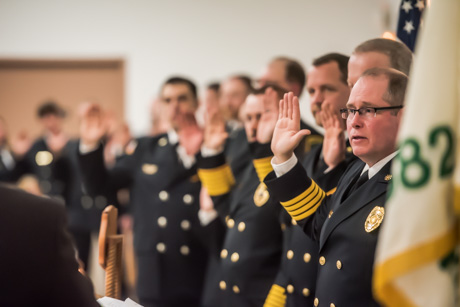 Brian Schollard, right, is sworn in as the new chief of the Corfu Volunteer Fire Department, along with rest of the officers of the department during its annual installation dinner at the Pembroke Town Hall on Saturday night.
Schollard replaces Dean Eck, who stepped down as chief after leading the department for six years. Eck, pictured below, was named Firefighter of the Year.
The department also debuted its new Class A uniforms.
Executive Officers: Steve Rodland, president; Ben Trapani, vice president; Paula Trapani, secretary; Jen Eck, treasurer; Allan Starkweather, sergeant at arms; Brad Lang, chaplain; and trustees, Bernie Fix, Justin Rodland and Ed Fauth.
Firematic Officers: Brian Scholard, chief; Greg Lang, deputy chief; Brian McMartin, 2nd assistant chief; Dean Eck, senior captain; Ben Trapani, captain; Brad Lang, captain; Mitch Bates, captain; Bernie Fix, fire police captain; Rob McNally, fire police lieutenant; Kristin Gaik, lieutenant EMS; Glenn Eck, lieutenant; Steve Rodland, lieutenant; Dan Smith, lieutenant; and Dean Eck, safety officer.
EMTs: Kristen Gaik, Cathy Skeet and Karen Lang.
Corfu Fire District Officers: Bruce Fauth, chairman; Jim Mallory, deputy chairman; Jenny McMartin-Eck, commissioner; Jim Hale, commissioner; Jim Hale, commissioner; Mark Zimmerman, secretary; and Michelle Sformo, treasurer.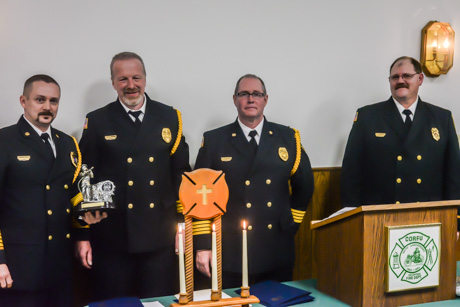 Eck, Greg Lang, Schollard, Brian McMartin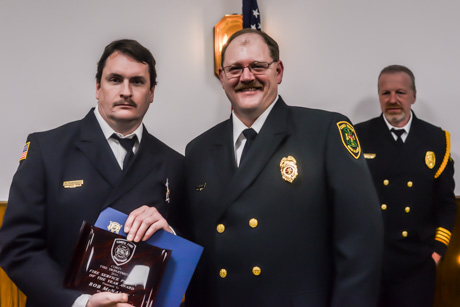 Rob McNalley received the Fire Service of the Year award.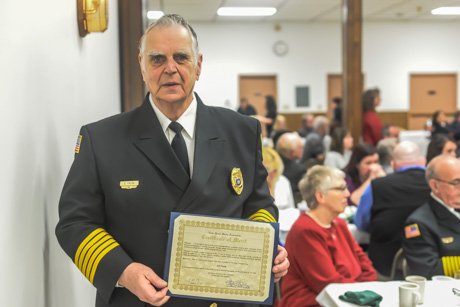 Ed Fauth responded to the most calls in 2016.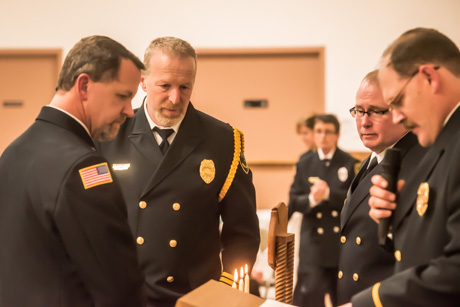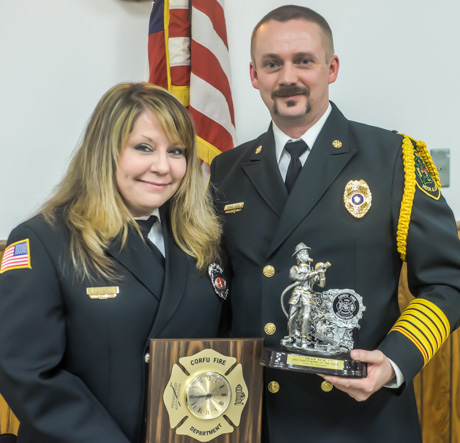 Dean Eck and his wife Jen.