Image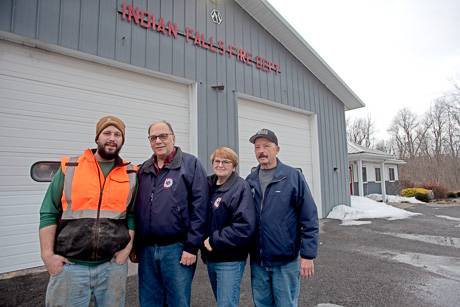 Genesee County's smallest volunteer fire department shouldered a big burden during the pre-Christmas blizzard that blew through Genesee County a week ago, providing rest, warmth and food to about 60 people stranded in the area by the storm.
The Indian Falls Volunteer Fire Department has 12 members, but only six could muster the storm response because the rest were trapped in their homes by heavy snow.
For Chief Ed Mileham, the department's response began Friday morning, Dec. 23, when the dispatchers informed him that deputies had rescued two people and wanted to bring them to the Indian Falls Fire Hall to provide them shelter.
Sure, Mileham said, he would be to the hall in 20 minutes.
But getting there wasn't that easy. The storm was already blowing through the area and the passage from his home on Indian Falls Road to the fire hall on Route 77 was already covered in snow drifts.  It took close to half an hour for him to make the trip.
At 2 p.m., a couple more people arrived, then a few more, then a few more. 
"After a couple more people arrived, I called Lu (Lu Anne Mileham) and said, 'hey, can you put out a message to anyone available?'" Mileham said.
Dave Olsen said he couldn't get out of his yard, but Mileham spoke with another resident who had a snowplow, and he went and cleared a path for Olsen and his son Max.
With Max Olsen on board, the department could start participating in some rescues. 
"I started to get actual phone calls here at the Fire Hall," Mileham said. "'Hey, we're stuck here. We're stuck there.' Max went out, picked them up and brought them in. By five o'clock, I think we had 12 people here. By six o'clock, I called Lu and I said, 'Hey, can you do some sloppy joes up?' I said. 'I got 12 people down here,' but the time she got done making sloppy joes and I sent Max down to pick them up, and it was seven o'clock, and we had 20 people."
By midnight, the count was up to 40 people, and by Saturday morning, it was 60.
And it was quite a mix of people -- a group of young Asians, a couple from Munich, a couple from Poland, folks from California going to Niagara Falls, an ER doctor returning from work in Rochester to his home in Williamsville.  There were people from New Jersey, Pennsylvania, Ohio, Canada, and Maryland.
"It was a large number of people that were either coming from or going to Canada," Max said. "I think that might have been like a GPS thing. It wasn't the whole crowd by any means, but there was a definite consistency that they were all using their GPS, and it kept closing roads and redirecting them, so like, it seemed they kind of almost got funneled into this area."
The Indian Falls response to this influx of people was handled by Ed Mileham, Lu Anne Mileham, Dave Olsen, Max Olsen, Matt Delre, and Randy Filter.
The leadership came from Mileham, and Dave Olsen gives him all the credit for keeping things in order.
"We got a lot of comments that (the situation) was handled, probably, as best as it possibly could be," Olsen said. "With some of the people, they complimented the chief quite a bit for his professionalism and the way he kept everything in order and had a plan and kept things written down. You know, he had an organization. He thought ahead. He thought about getting the food and things that, Most of us were just thinking about, 'Oh, what's the next fresh hell is that this storm is going to bring?'"
No serious issues
In Oakfield, volunteers were called upon to deal with a couple of hypothermia cases that were very serious. Indian Falls was spared any dire medical cases but there was a woman who arrived at the hall from Oakfield. She has epilepsy and had left home without her medication. It had been more than eight years since she'd had a seizure.  After several hours, she informed Mileham that she was getting a headache, so he arranged for one of the convoys that were sweeping the area to pick up stranded motorists to transport her back to Oakfield.
Then there was the guy who showed up in a kevlar vest packing a sidearm.
It turns out he is private security for a company in Rochester.
"He walked in, and there were like five deputies, and one was Joe Graff (the chief deputy of investigations)," Mileham said. "He comes walking in. He's got his bulletproof vest on. He's got his pistol on. It's like two o'clock in the morning. 'Whoa, wait, who are you? Let's see your permit.' Had no ID. No wallet. Nothing."
He had left his wallet in his car.
The deputies took his vest and gun and secured it, and told him he could pick it up Monday at the Sheriff's Office.
"The guy said, 'Hey, I've got no problem with it. I'll see you Monday or Tuesday.'"
That level of cooperation was apparent throughout the two days folks were stranded at the Indian Falls Fire Hall, Mileham said.  People just got along and cooperated.  
The first night's sleeping arrangements weren't ideal. Since the number of travelers coming through the area was unexpected, Indian Falls wasn't quite prepared to host 60 people.  There were no cots or blankets on hand.
Fortunately, the hall's floor is heated.
"Everybody said that, once they got laid on the floor, they were pretty warm and comfortable," Mileham said.
The Red Cross delivered cots and blankets on Saturday so the second night at the shelter was a bit more comfortable.
Feeding sixty unexpected guests
The hard part was food.
Lu Anne Mileham hadn't exactly prepared to feed 60 travelers, but with the storm coming, she had stocked up in case she needed to feed department members.
"On Wednesday or Thursday, I happened to be at BJs and I thought, you know what, I'll pick up a couple of loaves of bread, some chips, some lunch meat and stuff," Lu Anne said. "I'm thinking if our guys get caught here, at least we'll have that, and we've got water and soda in the fridge, so but at least they'll have something to eat a little bit."
She also had some supplies at home, and with some kids in the hall, a couple of boxes of mac and cheese came in handy.
On Saturday morning, Mileham contacted Crosby's in Corfu and ordered six sheets of breakfast pizza.
Later that day, he ordered pizza from a new pizza shop in Corfu, and by then, he was aware that some of the Indians in the group were vegans, so he had to get some meatless options.  One guy wanted a white sauce pizza, too, so Mileham ordered a pizza with white sauce.
The one difficulty Mileham couldn't solve for one of his department's guests was getting the Buffalo Bills game on the TV.  Spectrum was out of service during the storm.
"He goes, 'really?' I go, 'Hey, I'm with you. If you can get it on your phone, great."
When The Batavian told Tim Yaeger, Genesee County's emergency management coordinator, that we were doing a story about the storm response of the Indian Falls Volunteer Fire Department, he texted back immediately, "Ed and Lu Anne Mileham specifically are truly amazing people.  From working the COVID vaccination site at GCC to covering calls in the West Battalion on a daily basis, we would be lost and in trouble without them."
It turns out, so would have been a bunch of people from throughout North America and Europe on Dec. 23 and 24 when Winter Storm Elliott hit Western New York.
See previously: 'Fast Eddy' hangs up badge after 32 years of police work
Top photo: By Howard Owens, of Max Oslen, Dave Olsen, Lu Anne Mileham, and Ed Mileham.
Photos below, courtesy of Ed Mileham.
Image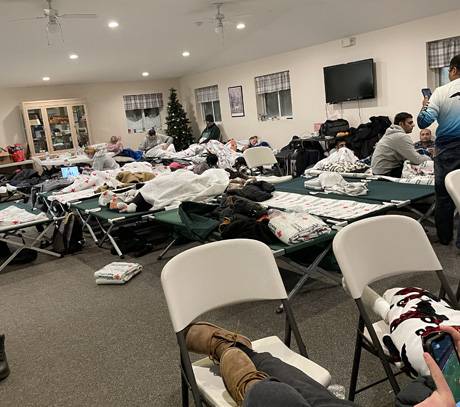 Image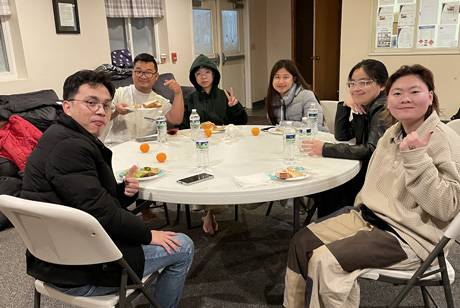 Image