June 1, 2018 - 3:05pm
Darien Lake's Tantrum expected to give thrill seekers what they want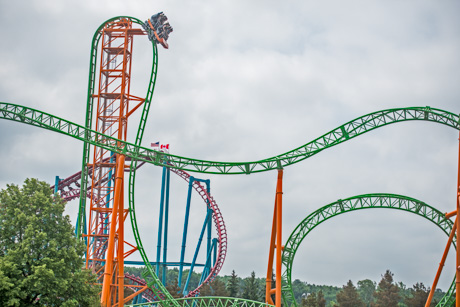 One of the best parts of Chris Thorpe's job, which he readily admits, is getting to preview the rides before they're open to the public.
He's already been on the theme park's newest ride, Tantrum, a dozen times, and he said it really delivers for thrill seekers.
"My favorite part of the ride, as people ask me, is when I rode it for the first time with my daughters, was the look of astonishment on their faces when it was finished," Thorpe said. "The ride is just dynamic and fun."
Tantrum is nearly a $5 million addition to the park's entertainment assets and its seventh coaster overall. The ride includes a beyond-vertical drop that hasn't been available on previous rides at the park.
Tantrum, the first coaster of its kind in New York State and Ontario, Canada, takes riders on a 98-foot vertical lift at a 90-degree angle – straight up the coaster's first hill. In a matter of seconds, upon reaching its apex, the train plummets into a 97-degree drop and pretzel inversion, reaching speeds of 52 mph as the coaster snakes through the structure over a bunny hop.
The ride is designed to keep riders guessing which way is up or down over a minute and two-seconds through multiple twists, turns and inversions.
Thorpe said Genesee County residents should definitely come out to the park this summer and give the ride a try.
"Darien Lake is going to deliver the best family experience and make memories that will last a lifetime," Thorpe said. "Come on out, give Tantrum a ride. If you're a thrill seeker, you will see this ride will really deliver."
Ribbon-cutting photo below: Linda Taylor, former marketing director for Darien Lake, cut the ribbon. Taylor was on hand in 1982 for the ribbon cutting for Viper, the park's first roller coaster. Today was her last day with the park before retiring.