August 28, 2018 - 11:11am
Democratic candidates for Attorney General share their views in forum at GCC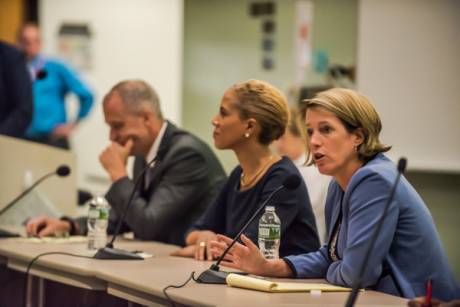 There was little disagreement on issues Monday night at Genesee Community College among the four candidates hoping to get the most votes in the Sept. 13 Democratic primary for attorney general.
They all favor issuing drivers licenses to undocumented residents. They will use the AG's office to help protect the environment and fight climate change. They oppose tariffs that are hurting farmers. They will continue to pursue lawsuits against pharmaceutical companies over prescription pain pill marketing. They will work to preserve the Affordable Care Act (ACA).
And, they all agree the Donald Trump Administration is corrupt and both democracy and the rule of law are under assault.
"We are at a crisis moment in our democracy," said Zephyr Teachout. "Donald Trump is actually ripping families apart. He cannot be trusted. We cannot trust federal regulation of the financial markets when Washington is controlled by the financial industry, which is surrounded by people like Chris Collins who use political offices to enrich themselves."
In all, the four candidates were a collegial group who kept their discussion civil and answered a half dozen or so questions from members of the Democratic Rural Caucus, which organized the event, and another five or six from audience members.
The first topic was about helping and protecting farmers and the candidates immediately jumped on Trump's tariffs, which are making it more difficult for farmers to export their products and reducing prices, which hurt or eliminate profits.
Sean Patrick Maloney, a member of Congress, said he represents 1,500 family farms, and many of them are smaller farms, 200 acres or less, that grow specialty crops. He said he's introduced 30 bills to assist farmers, especially in the area of crop insurance. Current crop insurance programs, he said, favor big Midwestern farmers.
"I will fight to end tariffs that are putting a terrible burden on New York farmers," Maloney said. "I hear that all the time. This is a self-inflicted wound and we need to fix it."
As AG, he said, one of the most effective things he can do is work to improve and protect access to markets for farmers.
Both Teachout and Letitia James said monopolies and corporate concentration are burdens on farmers that reduce competition. 
"A lot of people are making a lot of money in food," Teachout said. "It's just not farmers."
She criticized Monsanto for its patents on seeds, John Deere for his copyright claims on software that keep farmers from repairing their own equipment or going to less expensive repair services, and the lack of competition among food distributors.
James also said she would work to break up these big companies and end non-competitive practices.
She also favors eliminating Immigration and Customs Enforcement (ICE) or reining in its enforcement power to help ensure farmers are able to hire the immigrant workers they need to stay in business.
"It's really critically important the next AG stand up for their (immigrants) rights so they can come out of the shadows and seek work and feel safe," James said.
Leecia Eve said she is mindful of the need to protect the environment but she is also mindful of Washington's tendency to design environmental regulation around large, corporate farm operations, that then place an unnecessary burden on small farmers.
All of the candidates said they would use the power of the AG's office to protect the ACA and ensure New Yorkers maintain access to affordable health care. Maloney said while the Trump administration has done much to damage the ACA there are still issues to defend.
"The nice thing about the Trump Administration is while they are way radical they're also incompetent," Maloney said.
Lorie Longhany, a member of the RDC and former county chair of the Democratic Party, asked what the candidates would do to protect seniors.
Eve recalled her years working for former AG Bob Abrams. Abrams required staff to travel throughout the state and set up mobile offices in supermarkets and other public locations and the staff would answer questions and assist people as best they could with any problem. That's the spirit, she said, she wants to bring to the office.
"We need to put that effort on steroids," Eve said. "New York is under assault by Donald Trump. We have an economic crisis, a housing crisis, an environmental crisis. I will use the full weight of the office to protect the rights of New Yorkers. It's important to have an office in the community so New Yorkers feel like the attorney general's office has their backs."
Maloney said that protecting seniors from scams is the "bread and butter" function of the AG's office.
"If you're not doing that right, you're not doing this office right," Maloney said.
The AG's office is especially important in the age of Trump, Teachout said.
"There are seven consumer protection agencies that the Trump Administration is in the process of gutting," Teachout said. "The Consumer Protection Finance Bureau is being run by somebody who doesn't believe in consumer protection. This job becomes more important when you can't trust the federal government because this office is the last line of defense against frauds and scams."
To deal with the opioid crisis, the candidates favor decriminalization and putting more resources into treatment.
"We need to decriminalize mental health issues," Eve said. "We need treatment for people who are in crisis and have enough courage to ask for help. If they ask for help and somebody says you have to wait six months to get help, that's a recipe for disaster."