September 17, 2014 - 9:15am
Developers make case for 136-unit apartment complex in Town of Batavia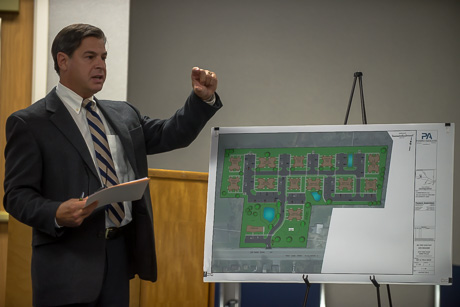 There's a very simple reason Rochester-based Conifer wants to build a middle-income apartment complex in Batavia now, John F. Caruso told the town's planning board Tuesday night.
"Batavia's hot," said the president of Passero Associates Engineering Architecture.
"It's hot," he said, "because of your smart growth plans, your STAMP Project, yogurt plants, lots of job growth. I'm happy we're the first to get in, but there will be more. Mark my words, this is a very good area."
Caruso made his remarks during a public hearing for Big Tree Glen, a 136-unit complex proposed for West Main Street Road that Conifer wants to build in three phases.
The Genesee County Planning Board disapproved the plan Thursday night, which means in order for the town's planning board to give it the nod, the vote will need to be a majority-plus-one.
Tuesday night, developers gave their presentation to the town's planning board and local residents -- including several in opposition -- shared their thoughts on the project.
The board won't take action on the proposal until its next meeting Sept. 30.
Caruso and Andrew Crossed, a VP with Conifer Realty, gave a very detailed presentation about the proposed complex, which Crossed called a "flagship design" for Conifer. The same basic concept has been built in several other New York communities, as well as in other states.
The project would be built in three phases with the first phase containing 56 units.
There would be one bedroom, two bedroom and three bedroom apartments, with monthly rents of $592, $717 and $900.
The market for the apartments are households with annual incomes of $25,000 to $45,000.
There would be no HUD, Section 8 or other rent subsidized apartments. Tenants would go through a thorough screening process, including a background check, income verification and reference check and would be required to sign leases that would clearly spell out residential expectations.
There would be two employees of Conifer on site full-time -- a residential manager and a residential maintenance supervisor.
"What we build, we own," Crossed said. "What we own, we manage."
All infrastructure -- roads, water and sewer -- would be owned and maintained by Conifer, meaning no expense for the town.
The property would generate about $75,000 local property tax.
While Conifer will apply for a state grant to help finance construction of each phase, it's a competitive process and Conifer goes into the project knowing they may not win. Either way, Conifer is not seeking any local tax abatements though the Genesee County Economic Development Center.
The complex would include a clubhouse, which would contain the manager's office, community kitchen, fitness center and laundry.
Each unit would have its own storage unit.
"You won't see storage on patios like you do in some places," Caruso said.
Caruso said Conifer uses quality construction material and the design offers a variety of features and colors to add variety and avoid a cookie-cutter appearance.
The final plan will include a bus loop for school buses and possibly local mass transit.
There will be a total of 53 percent green space surrounding the apartments.
"We usually don't skimp on landscaping," Caruso said. "Landscaping really shows the project well when the project is constructed."
One local landlord who attended the meeting said afterward he supports the project.
"Batavia needs this," he said. "I get people in my office every day looking for something like this and it just doesn't exist."
The residents who live near the proposed development area were less pleased with the project.
The main objection from the six or so opponents was the increased potential for flooding and a belief that Route 5 already has too much traffic on it.
Larry Regal, who lives on the south side of West Main, next to the Tonawanda Creek, said there is a small drainage area that connects to the creek and when the water rises on the Tonawanda, the north side where the project is located floods.
He wonders where that water will go if the development is built and whether that will make his property more susceptible to flooding.
Other speakers shared that concern.
They also complained that it can be hard now to pull out onto Route 5 safely with the current traffic volume.
Caruso had said during his presentation that traffic studies show the two-lane road has a lot of available capacity for traffic.
The town has recently installed new sewer lines along Route 5 with the idea of attracting development to the area.
The area is zoned commercial and a variance would be required for apartments, but Caruso said apartments with no more than 80 cars per hour at peak times would generate less Route 5 traffic than just about any possible commercial development in the same location.