Image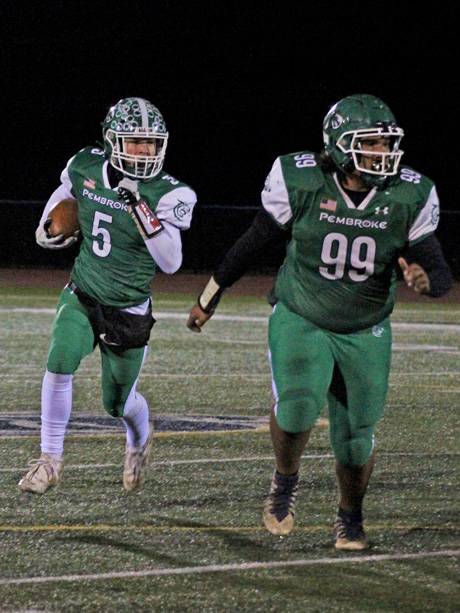 The Pembroke Dragons, already the school's first-time-ever boys sectional championship team, kept right on winning Thursday night with a 54-38 victory over the Morrisville Eaton Warriors (Section III) in the NYS Regional Semi-Final game.
Behind the blocking of JJ Gabbey, Octavius Martin, Jayden Mast, Madden Perry, Ben Steinberg, Chase Guzdek and Caleb Felski, Tyson Totten rushed 40 times for a single game school record 400 yards and five touchdowns.
Caleb Felski added an 80-yard kick return for a touchdown, while Chase Guzdek caught a 14-yard touchdown reception.
The Dragons (11-1) were down 22-20 at the half but played good defense, forced several turnovers and "just pounded the rock, being a tough O-Line." said Head Coach Brandon Ricci.
Dominic Boldt, Sean Pustkulla, and Avery Ferreira had to step into big roles with injuries to Section V and GR All-stars Cayden Pfalzer and Jayden Bridge.
Jayden Mast had 12 tackles, Octavious Martin had 11 and a forced fumble, Jacob Dulski had 6 tackles and an interception, and Chase Guzdek led the way with 15 tackles. 
The Dragons will represent Section V in the final eight-man football game in all of New York State (the New York High School Athletic Association apparently doesn't call it a State Championship but that is essentially what it is) on Friday, Nov. 25, at Union Endicott High School.  Game time is noon.
Photos by Guy and Elizabeth Gabbey
Image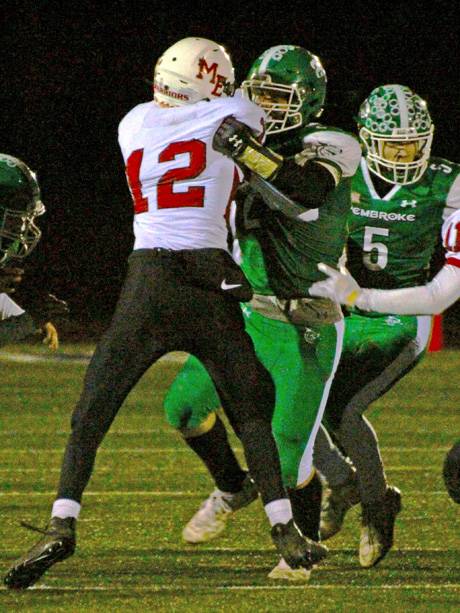 Image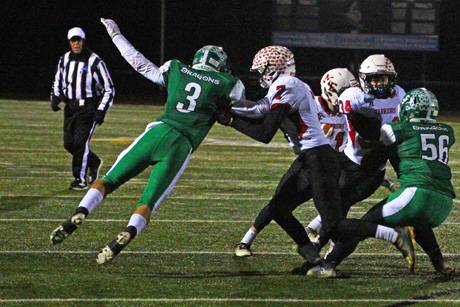 Image
Image