November 15, 2018 - 4:28pm
Driver accused of killing teen in hit-and-run appears in court while attorneys file motions in legal case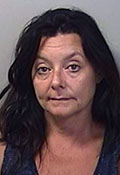 Jennifer Serrano
The defense attorney for Jennifer Serrano, the 48-year-old woman accused of killing an 18-year-old Hinckley resident in a hit-and-run accident in Darien on Aug. 11, will be given a chance to challenge any statements obtained by police from her during the investigation that led to her arrest.
Judge Charles Zambito granted the motion today by Frank LoTempio for the hearing, known as Huntley Hearing, which is pretty standard in criminal cases.
LoTempio will be able to question the officers involved in obtaining statements from Serrano to determine whether or not her rights were violated and whether the statements were legally obtained.
Serrano was allegedly the driver of a vehicle that struck and killed Connor Lynskey after the Jason Aldean concert at Darien Lake. Lynskey and a group of people were walking on Sumner Road back to the Darien Lakes State Park, where they were camping, when he decided to run ahead to catch up with a friend. He was reported missing later that night. His body was found by a deputy the next day.
About a half-hour later, Serrano was stopped and charged with DWI but she did not mention the possible prior accident and was only connected to the accident the next day through police investigation.
At the DWI stop, where she reportedly almost hit a patrol vehicle, Serrano may have tried to talk the deputy into letter her go, according to police reports.
Serrano appeared in court shackled alongside LoTempio and co-counsel Jack Sanchez dressed in gray sweatpants and an orange sweatsuit hoodie jacket.
She is being held on $100,000 cash bail or $200,000 bond while her case heads toward a possible trial.
LoTempio also filed a supplemental motion challenging the search warrants used in the case. He had filed the motion after recently receiving copies of the warrants and the statements used to obtain them. District Attorney Lawrence Friedman will be given time to file a written response before Zambito rules on the motion.