June 13, 2017 - 10:23pm
Driver in crash on Veterans Memorial Drive charged with DWAI-Drugs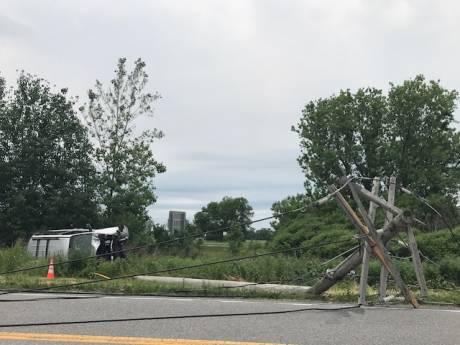 Brandon M. Seppe, a resident of Batavia, has been charged with driving while ability impaired by drugs following a single-vehicle accident on Veterans Memorial Drive at 2:08 p.m., today.
Seppe's passenger, Gregory Seppe, 59, of Batavia, was transported to Strong Memorial Hospital by Mercy EMS.
A Sheriff's press release says Brandon was westbound on Veterans Memorial Drive when he allegedly moved from the lane unsafely. He failed to maintain control of his vehicle and struck a large utility pole, causing a widespread power outage.
The vehicle came to rest on the passenger side.
The accident was investigated by Deputy Andrew Hale, Deputy Matthew Butler, and Deputy Chris Erion. Assisting at the scene were Town of Batavia fire, Mercy EMS, Batavia PD, and State Police.
June 14, 2017 - 11:24am
#2
Does it matter if they were prescription or illegal street drugs? I guess as far as possible additional charges are concerned, it might. However, the driver got behind the wheel of a 3,500-4,000 lb missile after taking drugs that could affect their ability to control that missile.
If they were prescription drugs, warnings would have been plastered all over the bottle warning about driving/operating heavy machinery (barring an allergic or bizarre reaction to an otherwise "safe" drug).