June 19, 2018 - 11:25am
Driver says he wasn't ready for GPS instruction to turn, leading to crash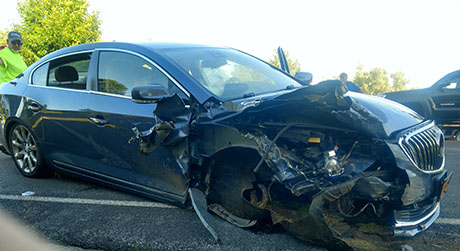 A driver involved in a two-car accident that injured four people, including himself, on Thursday, said that he made a sharp turn because he was traveling too fast when his GPS told him to make a turn.
According to the accident report prepared by Deputy Eric Andre, the driver failed to keep right as he made the turn where Byron Road turns northeast at Fotch Road causing the 2014 Buick sedan he was driving to cross into the opposite traffic lane. The driver's side front end of the Buick struck the passenger side front end of a Chevy Suburban.
Joshua Alamokelley, 18, of Raymond Drive, Brockport, was cited for failure to keep right, speeding, and failure to signal a turn. 
The accident was reported 6:42 p.m.
Alamokelley suffered minor injuries and was transported by Mercy EMS to Strong Memorial Hospital. His three passengers were also transported to Strong: Rebecca Kerstetter, 19, Kenneth D. Thuman, 22, and Sabrina Sample, 19.
The driver of the other vehicle, Paul Burch, 38, of Townline Road, Byron, was not injured.
The Buick Alamokelly was driving was registered to a resident of Hamlin.
Photos submitted by Timothy Motyka.