December 27, 2017 - 5:44pm
Duo accused of forcing their way into Alexander home, attacking resident
      Amber Holland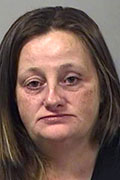 Jennifer Martino
Two women are in custody following an apparent confrontation inside another person's home in Alexander at 5:28 p.m., Tuesday.
Arrested were Jennifer Martino, 42, of Pearl Street, Batavia, and Amber Holland, 35, of Cambridge Square, Buffalo. They were charged with second-degree robbery, second-degree burglary, criminal mischief, 3rd, endangering the welfare of a child, and criminal mischief, 4th.
According to the Sheriff's Office, the duo forced their way into the home of an acquaintance. Once inside, investigators said, there was a physical confrontation. The duo also allegedly damaged property and stole property belonging to the resident.
Martino and Holland allegedly prevented the victim from calling 9-1-1 by taking the person's mobile phone. 
One of the occupants of the home was reportedly a 12-year-old child.
No significant injuries were reported.
Following the report, deputies located a vehicle with Holland and Martino inside and Holland driving. She was also charged with DWI, failure to submit to breath test, and unlawful possession of marijuana.
The pair were arraigned in Alexander Town Court and jailed on $10,000 bail or $20,000 bond each. Holland was also arraigned in City Court and ordered held on the DWI charge on $2,500 bail.
The investigation was conducted by Deputy Micheal Lute, Deputy Kyle Krzemien, and Investigator Joseph Graff.