January 10, 2016 - 3:56pm
East Pembroke fire hands out 2015 awards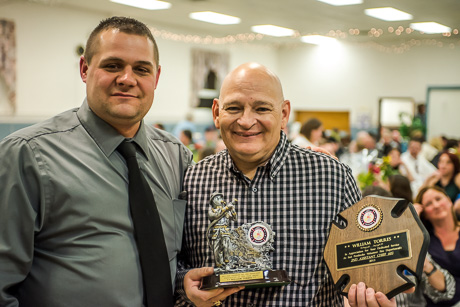 East Pembroke Fire Chief Don Newton is pictured with William Torres, who was honored as Firefighter of the Year by the East Pembroke Volunteer Fire Department at the department's annual awards dinner Saturday night.
Besides his tireless devotion to fire services and his many contributions to the department, Torres was honored as one of the top responders of 2015. He responded to 243 calls.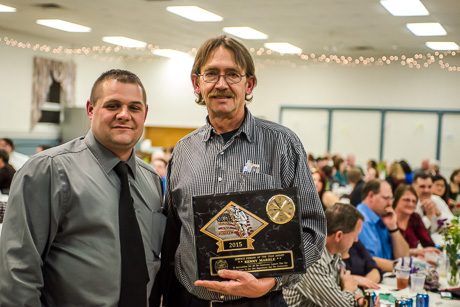 Ken Marble received the Fire Service Person of the Year award. The award can go to either a firefighter or member of the community. Co-winner this year, as voted by the members, was Ed Arnold Scrap Processors.
Marble also received certificates for going on 109 calls during the year and completing 54 hours of training.
Assemblyman Steve Hawley presented three long-serving members with certificates. From left are Dan Vania, 30 years of service, Robert Lang, 60 years of service, Hawley, and Don Newton Sr., 45 years of service.
Newton thanks the following local businesses for their support: Fenton's Produce , Ron & Newts , Holiday Ice , Kohorst Custom ome's , Ed Arnold Scrap Processors , Kohorst Trucking and Del-Mar Farms.
The department was called out 343 times in 2015. Members who made at least 25 percent of the calls and Monday night training combined for each quarter received a gift card, shirt and jacket.
The top responders, all making at least 100 calls, were: Kenny Marble, Andy Martin, Steve Smelski, Julie Waldron, James Gayton, Paul Kirch, Chris Bennett, Don Newton Sr, Don Newton Jr, Willie Torres, Matt Florian and Ryan Worthington.