September 19, 2018 - 2:36pm
Elba basketball players collect bottles and cans after Batavia Downs concerts, raise $1,700 for sports boosters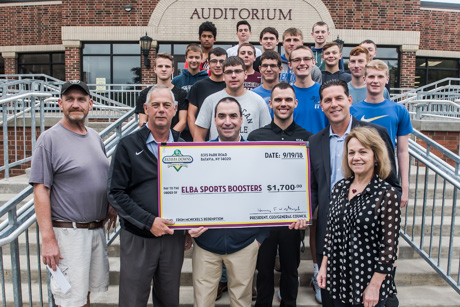 Throughout the concert season at Batavia Downs, basketball players at Elba High School volunteered their time after the shows to help with clean up, gathering recyclable bottles and cans.
Ryan Tenney, owner of McNickel's Redemption, on Ellicott Street, Batavia, collected the bottles and cans for redemption.
Today, he handed a $1,700 check to the Elba Sports Boosters.
Heather Dillion, not pictured, organized the bottle and can drive.
Photo: First row: Ryan Tenney, left, Mike Nolan, COO for Western OTB, Bill White, CIaci Zambito, Elba basketball coach, Henry Wojtaszek, CEO of Western OTB, and Jackie Leach, CFO of Western OTB. The basketball team is (not in photo order): Jon Boyce, Evan Hare, Colton Dillon, Collin O'Halloran, Greyson Huntington, Holden Brinkman, Tyler Stevens, Caleb Scouten, Andrew Hare, Jake Long, Zack Marsceill, Cj Gottler, Zach Howard, Jayden Hughes, Drew Hare, Travis Kauffman, Kyle Norton, Caden Muehlig, Nate Esten, and Jaykob Belluscio.