March 23, 2018 - 8:00am
Eli Fish Brewing Company ready for grand opening tomorrow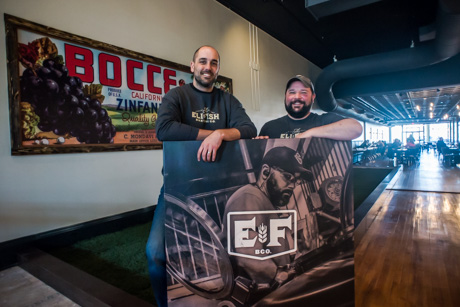 There have been some nice surprises along the way in getting Eli Fish Brewing open over the past couple of weeks for owners Matt Gray and Jon Mager, not the least of which is the crush of people crowding into the large bar and dining area that was once the retail store space of J.J. Newberry.
There's also the quality of the staff they've been able to hire; how well the brewery is working out as a workspace for Mager; the quality of the New York brews and spirits they've been serving; and the overwhelmingly positive feedback they've been getting in person and on social media from customers throughout Western New York.
Now, it's time for the grand opening, which is Saturday and will highlight the launch of the first two new beers from Eli Fish. There will be a ribbon cutting at 2 p.m. with food samples served until midafternoon and $5 drafts all day long.
"Our nighttime crowds have been pretty surprising," Gray said. "Our Friday and Saturday nights have been very good. We're serving a lot of guests and everybody seems to be happy with it."
For those visitors who get out and about often in the community, there has been a common observation as they wade through the large crowds on a Friday or Saturday night -- a lot of unfamiliar faces.  When you are out and about often enough in a small community, you get used to seeing the same people. There's a lot of new faces showing up at Eli Fish.
Gray, who also owns Alex's Place, has noticed the same thing.
"I'm noticing two different things," Gray said. "The crowd that is here that I do know and is local I don't see at Alex's, so they're not dining at that establishment. And then there are the ones I don't know at all, and there's a lot of them."
One of the goals of the City and Batavia Development Corp. has been to encourage more restaurants and bars downtown to help capture the estimated $2 million local residents spend in Rochester and Buffalo rather than Batavia. Of course, bringing people from Rochester and Buffalo and the other surrounding counties to Batavia would be a good thing, too.
Gray said one of the things they'll do with the grand opening is hold drawings, which include a registration that captures the zip code of entrants so they can get a better feel of where their new customers are coming from.
Mager said several posts on social media have indicated people are driving from the two metro areas to Batavia to visit Eli Fish.
But a common theme in the reviews is also that once people are inside the building they don't feel like they're in Batavia. They feel like they're in Rochester or Boston or somewhere else.
"That leads me to believe that there are a lot of people from Batavia who are coming and have been looking for something different, so it's cool," Gray said.
Getting people to come into a new restaurant is one thing. Getting them to come back, especially to fill a space as large as Eli Fish, is another thing.
The positive reviews of the booze and food so far are a good indication people will come back, and there are trends in the first two weeks of the soft open that indicate people will come back. Gray noted that a number of people have come in expecting just a brewery but during the visit also learned there are menus with hearty entrees and a fully staffed and stocked kitchen. There's already a trend, he said, of people coming back for a second visit for lunch or dinner.
To help provide reasons for people to visit Eli Fish regularly, Gray and Mager installed an indoor bocce court. They plan to sponsor bocce leagues and tournaments. They are also considering euchre and bridge tournaments, as well as other games suitable to the space.
"Jon and I, right from the get-go, have looked at Eli Fish as a community space, a place where people go to meet, whether it's family, friends, business meetings, events, and so on," Gray said. "We're very surprised at the number of calls that we've gotten to book larger events, 30 to 50 people. We have a lot of those already scheduled."
Another attraction for customers, of course, will be the two food stands inside the building that will be occupied by winners of the FreshLABs restaurant startup competition. EDEN Vegan has already been selected for one of the spaces and is expected to open April 22.
Mager said he's also been pleased with the brewery they built in the basement of the century-old building.
"We did a good job making it a functional space," Mager said. "We're not too cramped. We're not tripping over ourselves, so brewing down there is enjoyable and so far it's gone very, very well."
While the light has shone the first two weeks on the restaurant and bar, Saturday is Mager's big day when his first two beers from the brewery make their debut.
There will be an IPA called "First Draft" and a blonde that didn't have a name as of Thursday afternoon but will be christened by Saturday.
"Saturday is going to be a pretty fun day," Mager said.
One unique feature of the bar is that all of the beers and spirits are brewed or distilled in New York. There are no mass produced brews or liquors. Everything is handcrafted.
That means some of the labels can be pretty unfamiliar to most customers when they first come in, that puts pressure on servers to have good palates, experience and knowledge of what they're serving.
"One of biggest, pleasant surprises we had was the quality of the people that applied for our serving and bartending jobs," Gray said. "They are experienced. They know their stuff and they are open about learning new things."
New customers, new beers (20 on tap) and new spirits, and new staff have meshed nicely together so far, Mager said.
"It is a learning experience on what to recommend to somebody who comes in and says 'I like Coors light, what would you recommend?' and I think everybody's been picking it up pretty well that, yeah, it is a craft beer, but it doesn't mean that it's super hoppy and super alcoholic. We have light craft beers and the few that we have that fit that bill have been the highest sellers."
Both Gray and Mager have been surprised to discover just how good New York's spirits can be, as well.
"Most people don't think that New York is going to produce like excellent world-class gin,' Mager said. "We've got gins back there that I would put against Beefeater and everything else all day.
"There is a vodka out of Clarence," he added, "that me and Matt sampled together. It was fantastic. It's not like you're making a concession. It's not like you're settling for something less than premium."
With Gray quickly adding, "They're premium."
Gray likes Irish whiskey, but he enjoys all whiskey and it's been an adventure sampling what New York has to offer.
"I like trying them all," he said.
"That's pretty much my outlook on craft beer," Mager added. "I don't like going to a bar with a specific beer in mind. I like trying them all. Sometimes they're not my favorite but I like the adventure of trying them all."
Eli Fish is someplace not like Batavia, is the feedback, someplace that offers a bit of an adventure, someplace to bring the community together, and it seems that so far Eli Fish is off to a good start.
But it's not complicated, said Gray, who got his start in the food business a couple of decades ago with Matty's Pizzeria. The basics remain the same.
"A lot of things have changed (since Matty's) but it's all the same thing," Gray said. "There are only two people you're trying to make happy, and that's your guest walking in the door and your staff.
"You want to make sure everyone working with you wants to be there and is happy to be there, and then you want to make sure they are also making sure that every guest who walks in is happy with what you're putting out and the service you're getting. Whether it's a round pizza or a square plate, it's pretty much the same thing."