Image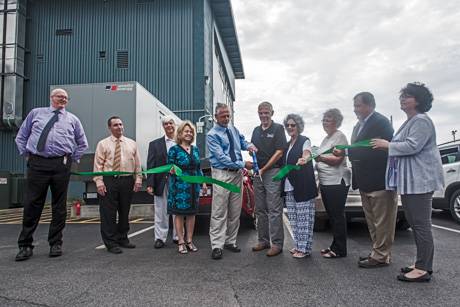 Mike Nolan, executive VP and COO of Western OTB, and Tom Turnbull, president of the Chamber of Commerce, along with officials from the Town of Batavia and NYSERDA, cut the ribbon this morning on the first electric vehicle charging station installed at Batavia Downs.
NYSERDA, New York State Energy Research and Development Authority, assisted with the installation of the EV station.
Batavia Downs charging station is one of several stations installed throughout the Genesee-Finger Lakes region through implementation of the Genesee Region Electric Vehicle Charging Station Plan, prepared by the Greater Rochester Clean Cities coalition in 2016 with NYSERDA support. Other local communities recommended by the Plan to increase electric vehicle infrastructure and have recently installed charging stations include the villages of Victor, Geneseo, and Brockport and the City of Canandaigua.
The new station is in the southwest parking lot, near the door for valet parking.
Image