March 24, 2017 - 1:54pm
Five months on the lam helps convince judge to deny bail to suspect in Central Avenue attack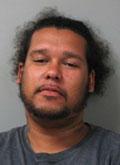 Oliver Thomas
If Oliver Thomas hadn't had a warrant for his arrest for five months, perhaps he could have made bail today, but since he didn't turn himself in and continued to hide from police, Judge Charles Zambito wasn't persuaded that bail was appropriate in his case.
Thomas was wanted for his alleged role in a home-invasion attack on residents in a Central Avenue residence in October. A second warrant was later issued because of his alleged failure to register a change of address as a convicted sex offender.
On the bail evaluation worksheet, which judges use to help determine somebody's flight risk, Thomas scored a negative four, even though he's a lifelong Batavia resident.
Thomas was in court today specifically for a review of his bail status following his arrest in Le Roy and original arraignment earlier this week.
Assistant District Attorney Melissa Cianfrini argued that even with his lifelong residency, Thomas has proven he's really pretty transient with lots of options for where he can go and where he can hide.
"He's a significant flight risk," Cianfrini said.
His assigned counsel, Brian Degnan, argued that because of his roots here, and that he obeyed all of the rules of his prior parole, he deserved reasonable bail, such as $10,000 or $20,000 bond.
Zambito agreed that Thomas is a flight risk and ordered him held without bail.