September 1, 2015 - 6:16pm
Football Preview: Lancers bring experience to gridiron in 2015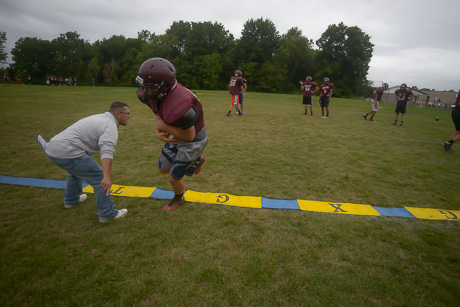 Some key starters from the 2014 edition of the Elba/Byron-Bergen Lancers have graduated and moved on, but Head Coach Mike Cintorino is confident in the squad he will put on the field in 2015.
"This is the most veteran group we've ever had," Cintorino said. "We have a lot of guys who played with us as freshman and sophomores and we've got 15 seniors returning, mostly starters, so we lost some names such as (Steele) Truax, (Mike) Shanley and (Garrett) Chapell, and guys like that, but in all reality, we had guys with us last year already ready to fill those roles who have been with us for a couple of years."
John Hockmuth, a standout at tight end last season, has been waiting his turn to lead the offense and is ready to step in as QB-1, Cintorino said. Richard Flores, perhaps the fastest running back in the Genesee Region, returns as half-back and there are younger guys ready to contribute at receiver and tight end.
Size and experience will benefit the offensive and defensive lines.
"They've been playing together actually since they were in seventh or eighth grade, so this line is probably the most experienced line that we've ever had in terms of them playing together and having that continuity," Cintorino said.
There are no pushovers in the GR this year, Cintorino said, so preperation for each game is going to be a key to a successful 2015 for the Lancers.
"It's that old cliche, one week at a time," Cintorino said. "We don't want to look ahead. Right now, our number-one focus is Pembroke. In a league like this, you can't take any team for granted."