May 20, 2018 - 9:47pm
GCC grads encouraged to commit to kindness, community, and optimism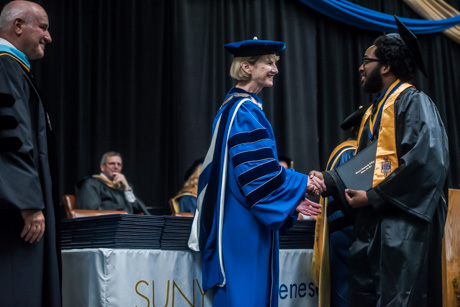 More than 900 Genesee Community College students have completed their degrees in the past 12 months and today about 225 of them accepted their diplomas in a commencement service that also marked the yearlong celebration of GCC's 50th anniversary.
Kristina M. Johnson, Ed.D., chancellor, State University of New York, gave the commencement address. She focused on a theme of commitments -- commitment to be optimistic and persistent, commitment to being kind, commitment to community and charity, and a commitment to a sustainable environment.
Johnson started off with the story of her mother, whose father died when she was 9. Her mother's mother died in the middle of the Great Depression; Johnson's mother was in high school when this happened, and she was left to raise her two younger brothers alone. Eventually, she married and raised seven children. At age 60, Johnson's mother was finally able to return to school.
"If not for a community college she would have been able to pursue her passion to further her education," Johnson said. "Many of you are like my mom. You had to juggle lives, careers, family and all of the other responsibilities that go along with being contributing members of our very busy society, so today we're here to celebrate you."
Johnson then told the story of one of her own young-life struggles. At age 22, while training for an attempt to make the U.S. Olympic team, she was diagnosed with Hodgkin's Lymphoma, which in 1979 was rarely curable.
"Imagine at 22 staring down a life of not surviving past 24," Johnson said.
When she started treatment, she went into a clinic for the first time and met two sisters, probably in their 60s. They had survived together in a Japanese internment camp and they were tough.
Johnson sat down and one of them said to her, "Is this your first time?"
Johnson wanted to know how she knew and the woman said, "because you look scared."
"I was crushed because truly I was scared," Johnson said. "I didn't know what to expect. I didn't know if it would hurt. I didn't know if I would be able to compete in my sport. I didn't know if the treatments would work."
Weeks went by with Johnson continuing treatment and by now she was a veteran, having settled into the routine. One afternoon, in the waiting room, again with the two sisters, another woman came in and sat down. Johnson asked her if she was new.
"Yes, how did you know?" the woman replied.
"I looked up at the two sisters and I winked," Johnson said. "'Well,' I said, 'you weren't here yesterday and we're all here at the same time every day so it has to be your first time.' I then proceeded to walk her through what was going to happen next.
"I could see the fear I had felt and I said to her, 'think of something nice.' She got up, she walked out of the waiting room, and before she walked in (to the next room), she turned around and looked at me and she said -- "
At this point, Johnson stopped. With hundreds and hundreds of people in the Call Arena, there wasn't a whisper, a ruffle of paper, a snap of a shutter or the squeak of a chair. Silence as far as the ear could hear.
Johnson composed herself, "She said, 'I'm going to think of you.'"
Johnson said she can never tell the story without becoming emotional.
That became one of the greatest memories of my life because on that day I chose to be kind," Johnson said. "There didn't seem to be any other choice but to be kind without expecting anything in return."
From these lessons, Johnson encouraged the students to commit to optimism and to be persistent no matter what they encounter in life.
"I remain a committed, if not obnoxious, optimist," she said.
She also told students to commit to kindness but to also accept themselves without judgment.
"While you're busy practicing kindness toward others, I want you to do one other thing," she said. "I want you to be kind to yourself."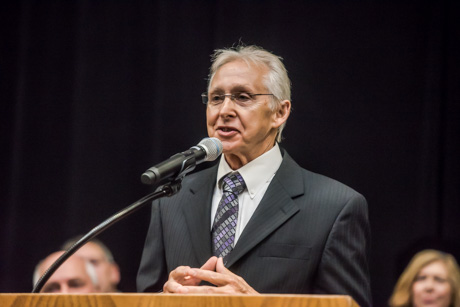 Charlie Cook, CEO of Liberty Pumps, was honored by the Alumni Association for his charitble support of the college.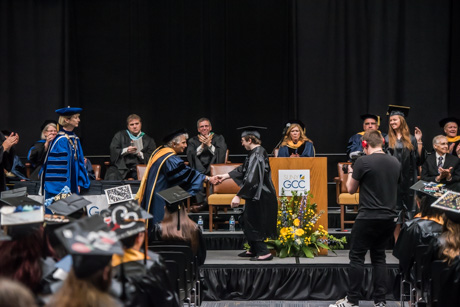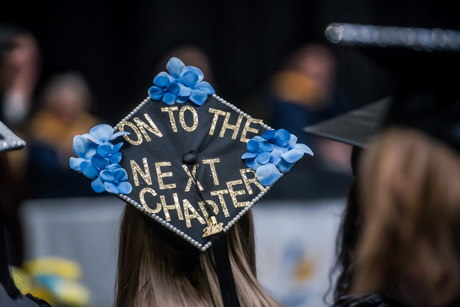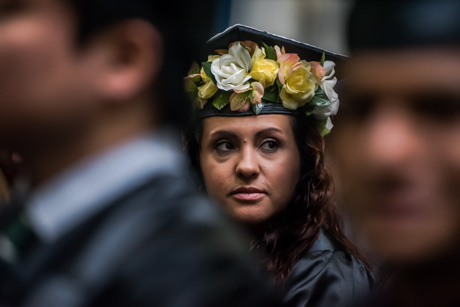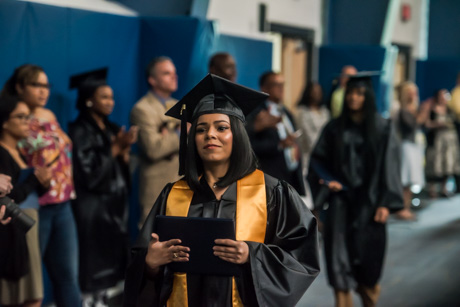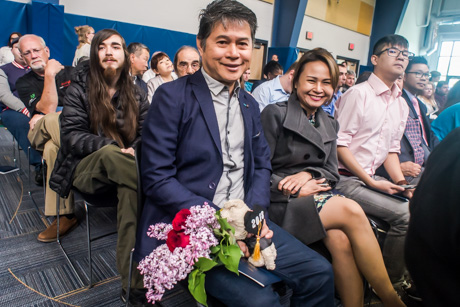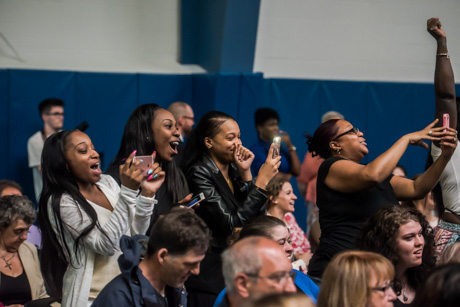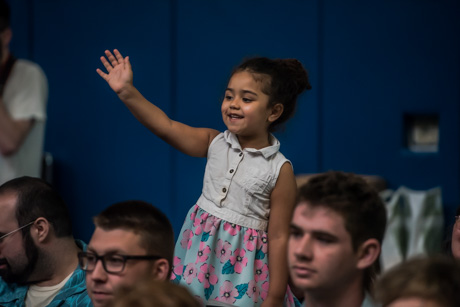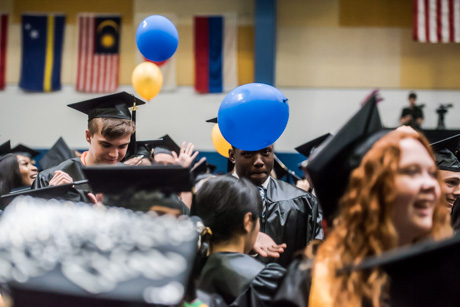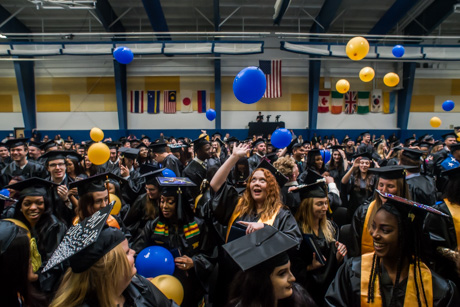 I was at the Graduation Ceremony yesterday and I'm wondering why our National Anthem wasn't sung! A girl sang " God Bless America " but no national anthem!. My son who graduated is a Marine Corp. combat veteran and I think it's a slap in his face as well as any other veterans in attendance. Is it too much to ask at a Graduation Ceremony to play/sing our national anthem? This is why he went to Iraq only to come back and go to school and have his service ignored? This is why he was shot at on patrol ? Are the County Leglislators aware of this? Are they ok with GCC ignoring our national anthem at graduation?