October 30, 2017 - 10:41am
GCCs men's soccer team wins regional title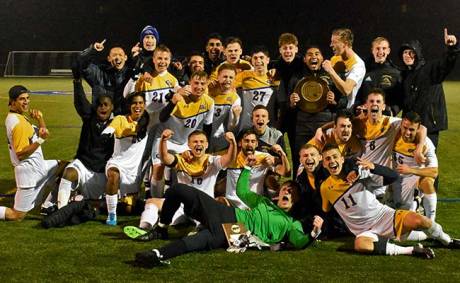 Press release:
The No. 3 Genesee Community College men's soccer team is heading back again to the National Junior Athletic Association D-III National Tournament after blanking Cayuga Community College 3-0 Oct. 29 in the Region III District A Championship game.

The region's top-seeded Cougars have now outscored their opponents 53-1 during their current eight-game winning streak. The win also extended the team's unbeaten streak to 17 games.

Current NJCAA D-III Goalie of the Week David Ormiston recorded five saves in the win and was named the tournament's most valuable player in leading the team to its seventh-consecutive shutout and 12th of the season.

Ross White got the game winner almost 30 minutes into the contest and Ben Wattis extended the Cougars' lead to 2-0 about 10 minutes later to round out the first-half scoring.

Charlie Livesey had the lone goal of the second half about 25 minutes into the session to add some insurance to the Cougars' lead.

Cayuga outshot Genesee 11-8 in total shots and shots on net 5-3. Each team had a half dozen corner kicks and the physical game produced eight yellow cards collectively.

Also selected to the all-tournament team from Genesee were Livesey, Wattis, and Glenn Holmes, with the latter assisting on Wattis' goal. Cayuga's Mikel Abando and Santiago Ortega were also selected.

Genesee heads to the NJCAA National Tournament as one of eight teams Nov. 9-12 at Wehrum Stadium. The men's soccer D-III nationals are hosted by Herkimer College, who will join the Cougars from Region III after defeating Onondaga Community College 4-0 in the last regional title game of the night that followed the Cougars' win.
Photo: Curtis Kreutter / GCC Athletics