May 3, 2016 - 8:45am
Genesee ARC celebrates 50th anniversary at annual meeting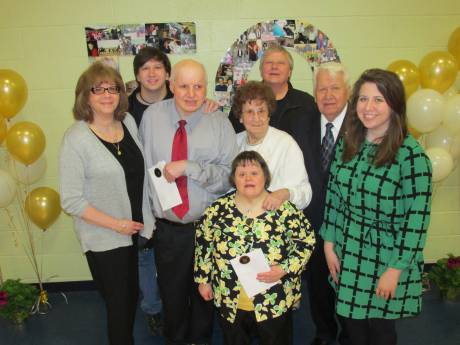 Press release:
Genesee ARC's 50th Anniversary Annual Meeting was held Friday night, just two days shy of the actual May 1, 1966 date that the agency was founded. Master of Ceremonies, WBTA's Dan Fischer, welcomed the 200 guests to Genesee ARC's Community Center Forum.

The first order of business presented and approved was the slate of Board Members and officers. Kevin Fischer, Jane Meier and Candie Pocock were reelected Board members. Newly named officers are: President, Jane Scott; Vice President, Deborah Riggi; Treasurer, Debrah Fischer and Secretary, Candie Pocock. The following individuals were named to the Nominating Committee: Ronald Cummings, Jane Meier, Deborah Riggi, Jane Scott, Scott Neff and Joseph Teresi.

Genesee ARC membership also approved the proposed bylaws of the Arc of Genesee Orleans. This action moved Genesee ARC one step closer to formally unifying with The Arc of Orleans County, a process expected to be finalized by October.

Donna Saskowski, who for the past year has served as executive director of each Chapter said this is a very exciting time.

"The Arc of Genesee Orleans will be based on the historic roots and strengths of our two current Chapters," she said. Looking to the future, the executive director said, "This is not a loss of one or the other, but the combination of the very best aspects of each, with a legacy based in both counties."

In reflecting on the past 50 years, Board Member and one of the founding fathers, Henry Valerych, took a look back and shared highlights of the past five decades. Becoming a Chapter and hiring an executive director were early highlights, even though the Chapter only carried a $5,000 bank balance at the time, he mused.

"The opening of a work center and the work center expansion project on Walnut Street provided so many opportunities," he said.

Valerych also pegged the residential program and the opening of the Day Habilitation program as highlights.

"And here we are joining Orleans, positioning ourselves for the next 50 years," said Valerych, who concluded by saying what a good feeling it is to know his involvement has helped countless families like his own.

Proclamations were presented by the City of Batavia, Genesee County, New York State Assembly and New York State Senate. Chris Catt, field director for Congressman Chris Collins, presented both a proclamation and flag that has flown over the U.S. Capitol.

A number of individuals served by Genesee ARC were recognized with awards for marking milestone service years.

Twenty year service award recipients are: James Grudzien, Judy Chappell and Bill Cappiello.

Twenty five year honorees include: H. Peter Valerych, Denise Myers, Lisa Dioguardi, Tom Graney, Julie Hall, Patty Cullen, Charmaine Michel, Alisa Tracy, Tim Quinn, Larry Bates, Judy Barlow, Samantha Mangas, Suzann and Eric.

Thirty year award recipients are Robin Baltz, Margaret Molinaro and Mary and Marty was recognized for 35 years.

Finally, being recognized for 40 years of service on Friday were Joe Gear and Sam Fryer. Danny O'Grady is one of Genesee ARC's longest served individuals, at 43 years and participated in a cake-cutting ceremony helping to mark this historic event.