July 16, 2015 - 11:24am
Genesee ARC hosts 39th tournament outing at Stafford Country Club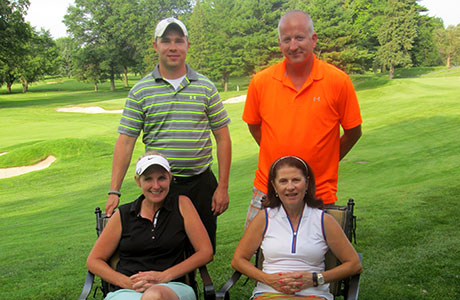 Press release:
Stafford Country Club hosted Genesee ARC's 39th annual Lullo Memorial Tournament Monday, the longest-running charity event at the local private club. The tournament features golf, tennis and bocce and raises funds for disability services ARC provides to more than 450 children and adults and their families throughout Genesee County. 

The event chair is Ed Carney; Peggy Lamb and Deb Fischer are the tennis and bocce chairs. 

Coming out on top in the golf was Rod Hamilton who shot a 72, followed by Steve Harrison, 73. Low gross honors for women went to Tina Lambert with an 86.

In the low net category, Paul Barton came in with a 62, and Travis West was a close second with a 63. Maria Woodward had a low net score of 71 for women. Joan DeCarlo is also being recognized with low net honors.  

In the blind bogey competition, Mark Yost matched the blind bogey number drawn of 74.

There were several contests on the course. In the longest drive on 7, John Houseknecht was the winner and winning closest to the line on 15 was Sheila Laird. Rod Hamilton won a Coor's Lite golf bag, courtesy of C.H. Wright, in closest to the pin on 8 (9'11"). Hamilton also won a Schwinn bicycle, donated by Adam Miller Toy and Bicycle, in the same contest on 14 (4' 11"). The top winners in the closest to the pin on 12 were Greg Strauss, Chip Braaten, Joe Lestorti and Craig Rinefierd.  

The hole-in-one contest on 8 was sponsored by Castilone Chrysler Dodge Jeep Ram. Unfortunately, no one shot an ace to drive away with a 2015 Jeep Renegade.

In bocce, the first place team was Donna Hummel, Bryan Falitico, Joe Teresi and JoAnne McInerney. 

Top score in tennis went to Steve Rumery. First-place team honors went to Steve Rumery and Phil McNulty and second-place team went to Steve Clemm and Len Jasinski.

Gold sponsors of the event were: Turnbull Heating & Air-Conditioning, The Bank of Castile/Tompkins Insurance Agencies, The Bonadio Group, Graham Corporation, and Tom & Lynn and John Houseknecht. Silver sponsors were: The Batavia Daily News, Oakfield Family Medical Care, Alpina Foods, Erie Niagara Insurance Association, Ralph & Agnes Houseknecht, Ed Arnold Scrap Processors, Inc., Castilone Chrysler Dodge Jeep Ram, Tops Friendly Markets, Bessey Tools, Parkview Health Services, Genesee Valley PennySaver, United Memorial Medical Center and The Insurance Center.

Also supporting the event were 19 golf sponsors, four tennis sponsors, six bocce sponsors and nine Friend of ARC Tournament Sponsors. Door Prizes, silent and Chinese auction items were donated by dozens of area businesses. The 2015 cart sponsor was Manning Napier.

A total of 110 golfers, 14 tennis players and 36 bocce players participated in the annual event that raises money to benefit programs and service for people with disabilities served by Genesee ARC. The winner of the $1,000 cash drawing was Susan Spiotta, of Batavia, with ticket number 19210. Florence Lullo picked the winning ticket.

The tournament is named in memory of Florence's late husband Danny Lullo. Mr. Lullo was a local businessman who came up with the idea to hold a tournament to benefit Genesee ARC programs and services for people with disabilities in our community.