July 7, 2017 - 10:21am
Genesee Cancer Assistance plants Festival of Hope tree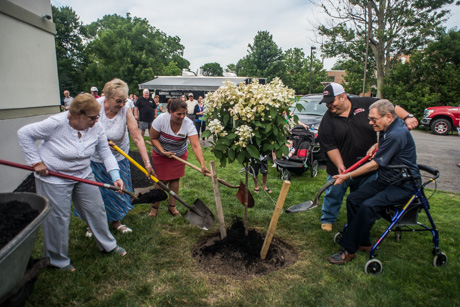 Genesee Cancer Assistance planted its Festival of Hope tree yesterday outside the Wilmot Cancer Institute on Bank Street, Batavia.
Participating were Bev Henning, Lois Gerace, Nickie Fazio, John Morrill and Ed Kirby.
Henning and Kirby are cancer survivors. Gerace is the wife of the late Joe Gerace, cofounder and former board member of Genesee Cancer Assistance. Fazio is with Genesee Cancer Assistance, and Morrill is owner of Bubba's Landscaping.
Below, Sue Underwood and Fazio hang ribbons for cancer survivors on the hydrangea tree.
The event was catered by Red Osier Landmark Restaurant in Stafford.