June 18, 2018 - 10:36am
Genesee County delegates to Boys State announced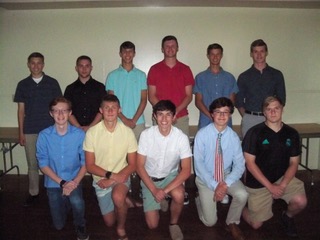 This year's delegates to Boys State from Genesee County school gathered in Le Roy on Thursday for a meet-and-greet at the Botts Fiorito American Legion Post #576.
This year's delegates are: Adam Drake, Byron-Bergen; Jared Fregoe, Byron Bergen; Matthew Grover, Batavia; Zakariah Jantzi, Batavia; Erik Maier, Oakfield-Alabama; Roan Mallaber, Le Roy; Maxin McKenzie, Le Roy; Kyle Mott, Oakfield Alabama; David Pillo, Batavia; Reece Tresco, Le Roy; and  Hagan Triftshauser, Notre Dame. 
Boys State is a program of the American Legion nationally and was founded in 1935 to help educate young men on free, democratic government.