March 19, 2017 - 7:03pm
'God is your backup' is pastor's message to local law enforcement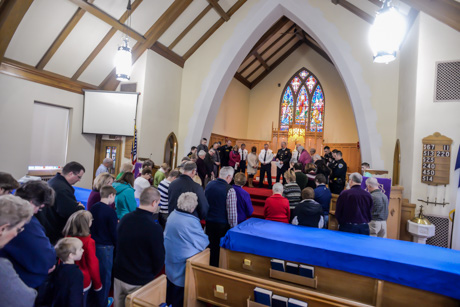 This morning's service at St. Paul Lutheran Church in Batavia was dedicated to members of the law enforcement community, to pray for them and to encourage them and to thank them for their service to the community. There were representatives at the service from the Sheriff's Office, Batavia PD and the State Police.
Pastor Allen A. Werk officiated. He is also chaplain for the Sheriff's Office.
Pastor Werk read from Joshua 1:9: "Be Strong. Be courageous. Do not be terrified. Do not be discouraged. For the Lord your God will be with you wherever you go."
His message was that God promises to be with us in whatever challenges and difficulties we face, especially those who serve.
"God is your backup," Werk said. "He has your back in every situation you face. Every call out, every domestic, every accident, every traffic stop, every disturbance, every break-in, every rescue, every crisis, every disaster, God promises that he will be with you wherever you go."