July 6, 2017 - 9:31am
Gordon Offhaus recognized for contributions to community by Town of Batavia GOP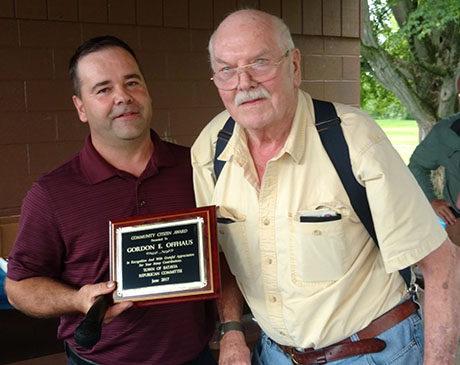 Press release:
The Town of Batavia Republican Committee held its annual picnic at the Batavia/Kiwanis Park and presented its "Community Service" Award to Gordon Offhaus. This is an annual award to recognize a person or business for service to the Town of Batavia community.

Gordie moved to the Town of Batavia in 1972 -- 45 years ago this year -- and established Offhaus Farms on Oak Orchard Road (Route 98) with 18 cows. He and his son Scott still operate the business now milking 1,200 cows. He has served on the Town Planning Board for more than 30 years representing Agriculture. He is always ready to serve on committees, Comprehensive Plan updates and assist the Town in many ways. He is very deserving of this recognition.

The plaque was presented by Deputy Town Supervisor Dan Underhill. Even though it was a rainy evening, the event has attended by about 100 people.