September 24, 2017 - 8:23pm
Grant provides Corfu firefighters with new breathing apparatus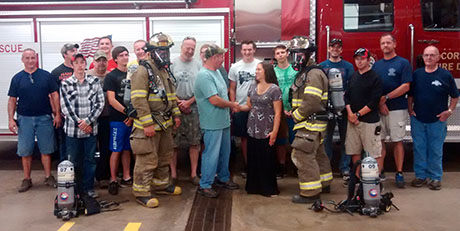 Press release:
Corfu Firefighters have put into service 13 new SCBAs purchased through the federal government's Assistance to Firefighters Grant Awards.

The Corfu Fire District was successful in securing the grant through efforts of Rosalie Mangino-Crandall and her Insights Grants Development Company. She donated her time for the Corfu project which is greatly appreciated by the department. 

The newest and latest model of SCBAs replaced our outdated 1997 NFPA edition SCBAs that have been costly to repair and were at the end of their life cycle. The grant enabled the district to purchase 13 complete units and one mask integrated radio Bluetooth. The total cost of the grant is $88,400, with the district's share of $4,209.

This will ensure our firefighters are well protected and have the latest technology available to them for the foreseeable future at a small cost to the taxpayers of the Corfu Fire District.