October 15, 2017 - 11:53am
Heavy metal band from Le Roy, Invictra, wins Battle of the Bands at the Smokin' Eagle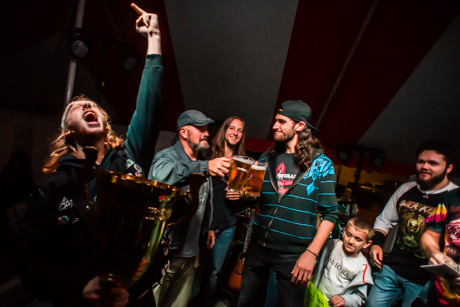 Invictra, comprised of four young men from Le Roy, is the Battle of the Bands champion in the annual summer-long contest sponsored by Smokin' Eagle BBQ & Brew.
Invictra and The Travis Prinzi Band battled in the finals last night in a tent outside the tavern in Le Roy and the judges and audience picked the heavy metal quartet as the winner.
Invictra is Josh Zalar, vocals and guitar, Alex Dunn, guitar, Dylan Thompson, drums, and Steve Stephany, bass.
The band released a single in July, "A Cardinal Sin."  
The band was the first entry to perform this summer and the growth of the band from June to October was apparent in last night's performance. There's a real polish to their performance now. They are tighter, more confident, more polished and perform with greater energy.
In addition to the championship title and a chalice, the band received a $1,000 cash prize.
The Battle of the Bands raised $3,000 for Golisano Children's Hospital.