January 5, 2018 - 10:07pm
Hochul reviews the State of the State during visit to GCC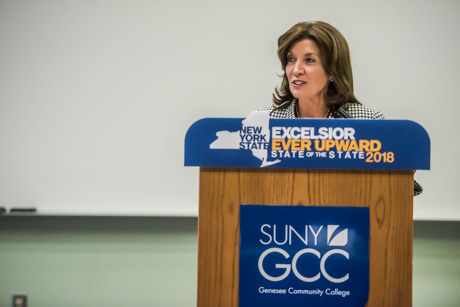 Lt. Gov. Kathy Hochul was in Batavia at Genesee Community College today to review Gov. Andrew Cuomo's State of the State speech.
After cheering the Buffalo Bills and talking a bit about how well Batavia and Genesee County are doing, Hochul highlighted key elements of the speech, which outlines some of the issues the governor's office will take on in 2018.
These issues include: stepping in and filling the gap, like many other states, left by the Trump Administration's announced withdrawal from the Paris Accord on Climate Change; expanding high-speed broadband in rural parts of the state; continuing to address the opiate addiction crisis; improving the lives of children through improved access to nutritious meals, through addressing lead exposure, and expanding after-school programs; ending the state's practice of suspending professional licenses for people who default on student loans; addressing workplace sexual harassment, including among elected officials; bail reform; improving ballot access; and ethics reform for the Legislature.
Hochul also praised the efforts of Cuomo to improve the business climate in New York.
She said under Cuomo's leadership, the state has controlled spending and lowered taxes. The corporate tax rate is the lowest it's been since 1968, she said, and the middle-class rate is the lowest it's been since 1947.
"Keep these numbers in your head," Hochul said. "When you walk around and here people say taxes are too high, they've come down dramatically under this governor."
She pointed to the state's investment in infrastructure as another factor in the state's improved economic outlook, noting, too that there are now 8.1 million jobs in the state and the unemployment rate has dropped dramatically during Cuomo's tenure.
The Cuomo Administration has also pushed for paid family leave, tuition-free college for qualifying students, and Raise the Age, a reform that will allow 16- and 17-year-olds accused of some crimes who would have been prosecuted as adults in the past to be moved to Family Court.
Hochul said that while she represents all of New York, Batavia is always a special place to visit. This was her 31st trip to Batavia since becoming lieutenant governor. 
She is excited by the progress she's seeing, from the Downtown Revitalization award to the entry of HP Hood into the former Muller Quaker plant, and the promise of high-tech jobs in Alabama.
"Just talk about the STAMP project," Hochul said. "Yes, it's taking a little longer than we want, I understand that, but there has been $50 million from the State for Ludlow Construction for the infrastructure they've put in at the site during the summertime. That's going to be transformative. That's going to be a magnet."
Speaking with the press after the event, Hochul attacked the GOP tax plan passed in December by the House and the Senate and signed by President Trump just before Christmas. She said it was bad for the working people of New York.
"This one came down to calling on our entire congressional delegation to stand with New Yorkers and four did not, which is appalling to me," Hochul said. "Four individuals broke from their colleagues in the same party in New York and said, 'we don't care.' Now we've got a fight on our hands."
That fight could include dropping the state's income tax and switching to a payroll tax. Such a change, in theory, would not change the take-home pay for workers. Their employers would pay the same amount of tax they currently deduct from paychecks, but it would be pre-tax (federal tax) money. Workers would then not be double taxed (which is the case if they can't deduct the money they pay in taxes to the state on their federal returns).
"Everything is on the table," Hochul said. "We're looking at what other states have done. We're looking at what we can do legally. We believe it is unconstitutional to have double taxation. It's something our Founding Fathers discussed. It's talking about states rights and how not to trample on them. It's amazing to me how people in Washington will pick and choose which states rights they want to protect."
January 6, 2018 - 9:22am
#8
Kathy, Kathy, Kathy look at you all talking state's rights and whatnot. I agree, by the way that double taxation is wrong, not sure about the unconstitutional part though. Through the abomination that is the 16th amendment, Congress can tax whomever and whatever it likes. That (the 16th amendment) is what needs to be changed. The Founding Fathers did not believe that one's income or fruits of labor should be taxed, I agree with that too. But the progressives of the late 19th and early 20th centuries loved them some big gub'ment and foreign adventures too and got it passed. Now we have an insatiable beast on our hands, which the founding fathers warned against. I believe the NY income tax accounts for 40% of the states revenue, give or take a bit. How's this - reduce spending by 40% and eliminate the income tax in NY all together? That should be far more important than trying to stay in compliance with the Paris accords. I'm all for saving our environment, but there's a lot of common sense that can be done easily without some outsiders politically motivated or corrupt input.
For the record, I thought Kathy did a good job as our Congressional Representative, I even voted for her re-election and i don;t vote for R's or D's very often, almost never. I don't agree much with her positions, but I felt she did a great job trying to know what the people in her district (whatever # it was) needed. She was actually our representative, not the rep of some faction of a major political party like most of them are. I respected the way she went about her job. Now, however she is in league with the Governor, who basically wipes his nose (and other places) with the Constitution. So Kath, if you have a problem with selective reading of the Constitution, and you should, you could start with your buddy Uncle Andy.