March 13, 2019 - 12:42pm
Hochul stops in Batavia to lobby for 'tax justice'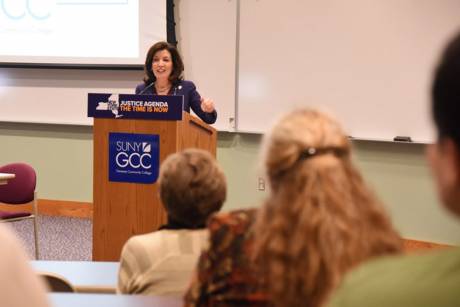 Since a property tax cap was imposed on local governments in 2011, New York taxpayers have saved $25 billion in additional taxes, said Lt. Gov. Kathy Hochul said Monday during an appearance at Genesee Community College.
"I think people like that," Hochul said. "I think if you're a resident or a business owner, you like that."
Hochul is visiting communities throughout Western New York to drum up support for making the tax cap permanent and end periodic efforts to undo one of Gov. Andrew Cuomo's landmark accomplishments.
Keeping the tax cap is important to attracting new business to the state, Hochul said.
"Any business can go anywhere they want in the nation and we're working had to bring them to Upstate New York," Hochul said. "If you're going to lure them from low-tax states, we need to be able to say to them, 'you can count on what your tax rate is going to be because it's permanently locked in at this number.' "
Hochul, herself once a town board member in Hamburg, acknowledged that living within a 2-percent cap on the property tax levy is a challenge for local governments but she thinks it's worth the effort.
"We had a reputation for being a high tax-and-spend state and the governor on the first day he took office, he said we deserve that reputation," Hochul said. "That's been our legacy for the past 40 years."
Cuomo, Hochul said, has been focused on helping Upstate New York recover from decades of neglect and has directed $44 billion in economic development to Upstate, for things like roads and airports and railroads, and industrial and agricultural parks.
The effort is paying off, Hochul said, as the evidence in Batavia shows, where downtown is being revitalized and another $10 million is being invested in additional improvements downtown.
As part of her tax justice talk, Hochul also discussed the elimination of deductions of state and federal taxes. Reinstating the deductions is a matter of tax fairness, she said, because people wouldn't be taxed twice on the same income.
The elimination of the deductions is costing New York taxpayers $15 billion a year.
Submitted photo.