February 25, 2018 - 5:29pm
Hope Center of Le Roy opens with multiple programs for the community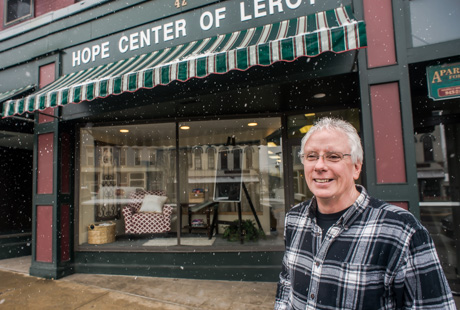 It's the vision of Rev. Henry Moore and the team at the Hope Center of Le Roy that the new ministry 42 Main St. will provide the community with a place of hope and help.
"We just want to show God's love through all of us and everything that we're doing," Moore said. "That's a lot of what we're based on, the fact of God's love and things will take shape from there."
The Hope Center, which is still just barely furnished, offers several programs for the community already.
There is L.I.F.T., which stands for Ladies in Faith Together. It's a program for single moms, where single moms can meet and support each other, share a meal, and grow in faith together.
The King's Table provides support for caregivers of children with special needs. 
"A couple of ladies who have special needs children took it upon themselves to start the program," Moore said. "Since then they've begun to bring families in and it gives them an opportunity to just meet together."
Fresh Start Literacy is a program for children to get extra help with reading.
"We really feel like this is going to be a powerful one because so many families have children who struggle to read," Moore said. "It's tough in a school atmosphere to get one-on-one help. We're willing to offer that."
Moms United in Prayer is a chance for women to pray together on a regular basis for children and schools.
Annually, the center offers Go Pro Spa Day and the Prom Dress Give Away.
Planned programs include Celebrate Recovery, a disaster relief program, children and teens programs and a New Life Clothing Center.
Much of Moore's ministry is based on the work, including the Prom Dress Give Away, he was doing with the Living Waters Church.
The Hope Center is now a separate nonprofit, and Moore is seeking donation and community support. The Hope Center has also started a building fund with the hope of eventually owning its own building.
"What we really want to do is get the community involved get all the churches to come together," Moore said. "I mean, no one person has a vision to make everything happen. One of the things we found was that someone has a vision and they don't know how to make it happen. We want to help that."
The rest of the leadership team includes Donna Friedman, Pat Bedford and Amy Bolton.
The motto of the Hope Center is that "hope is more than a wish. It is a confident expectation."
Moore said it's his goal to see the new ministry provide that kind of confident expectation to the Le Roy community.