March 30, 2017 - 12:27pm
Immigration supporters rally at detention facility in Batavia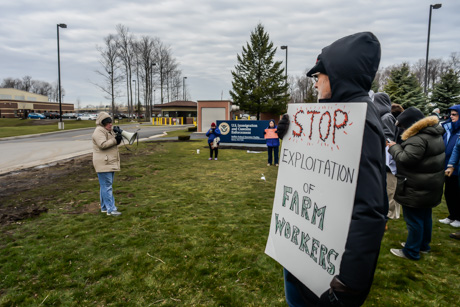 Immigration rights supporters were at the Buffalo Federal Detention Facility in Batavia this morning to protest the detention of José Coyote Pérez, an immigrant who had been cleared to work in the United States but has been held in detention since Feb. 24 without explanation, according to his supporters.
The Worker Justice Center of NY released the following statement from Pérez:
"Last September a judge administratively closed my case, and I had so much hope to finally be a part of the community – I had a work permit, I was about to get my driver's license, I was part of the community and represented my colleagues and I felt free finally, after living in fear for so long. People know me, I speak up, I am not hiding, and when they called me to go in and sign I went, I didn't hide. It is so upsetting what is happening to immigrants. I've been here in jail for more than a month, without the chance to see a judge, and I don't know why, not even my lawyer knows why. I have gotten phone calls, visits (from) the organizations I am a member of and even the students at Geneseo, too. This is what keeps me strong, the people who are fighting for me and helping me." 
Pérez had been working in the United States for 15 years and has three children, all U.S. citizens. He's active with the Worker Justice Center in support of farm labor and immigrant rights.
Pastor Chava Reddonet, speaking in the top photo, said she came out to the protest today because she feels farmworkers are not treated fairly and now face new challenges with seemingly increased immigration enforcement.
She said farmworkers work harder than she can imagine.
"They do this day after day so they can send money home to their families and help them all to survive and then we punish them for being here," Reddonet said.
Jaqueline Travis, from the Syracuse area (second photo), came to the United States from Bolivia in 1997. She said she is proud of the farm work she and her fellow immigrants do. 
"I enjoy apples and my daughter loves cheese and yogurt and my husband loves milk in his coffee and we really do have great products," she said. "It's a shame — (how) we are treating (farmworkers), these are my brothers and sisters, just like you are, and we are putting all of that aside ... These are the people who are making so much money for these farmers and I can't make sense (of it). It makes me so sad that we can treat people like this and we can be OK with that and as a society we don't even want to think about it. When you mention things like this, people get uncomfortable. 
She said people need to know what's going on.
"If this is what makes America great, then, I am sad and I'm so afraid for our farmworkers and everybody who brings food to our table," she said.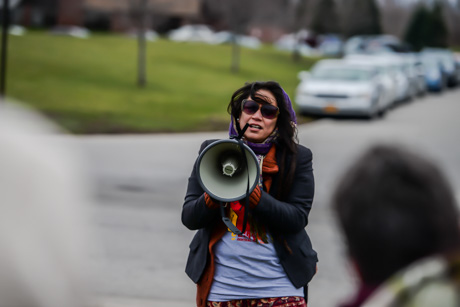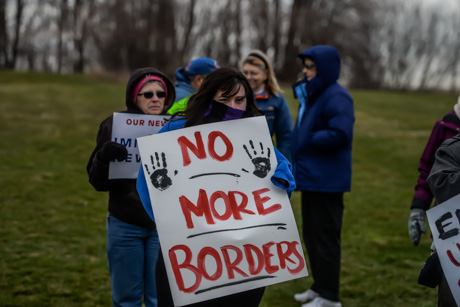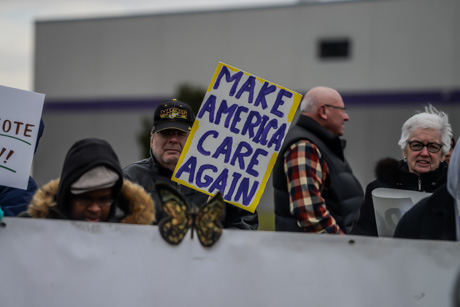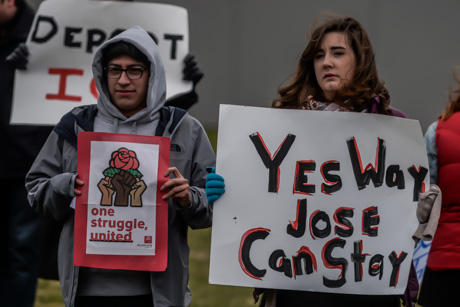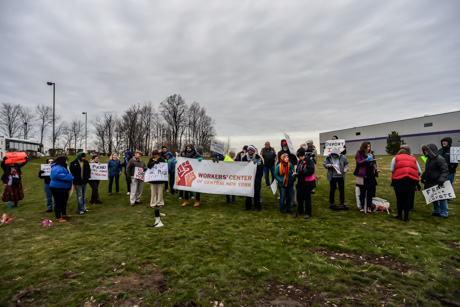 March 30, 2017 - 2:10pm
#1
I think that one particular sign, being held by one of the "Immigration supporters" conveys what they all believe in.
Which sign am I speaking of? The one that reads, "No More Borders".
Wouldn't that be great? Why stop at No More Borders? How about No More Property Lines? We're all merely humans. Shouldn't we just be allowed to go wherever we please? Why should I give a damn whether someone has "worked their tails off" to be able to procure a piece of land?
While we're at it, how about No More Private Property, of any kind? I've got a date tonight. But, I really would like to impress my dating partner. The seats in my '92 Ford Ranger aren't nearly as comfortable as the seats in your 2016 Lexus. So, why can't I just use your (Oops! I mean, what you THINK is "your") vehicle?
WHAT? You're saying that it's YOURS? Why, how can that be? I thought everything belongs to everyone.
Oh, by the way. After my date tonight, I'll be stopping by to bring back our Lexus. Please try to leave some homemade cookies on the counter. There's a good movie on OUR Netflix channel tonight, and, I don't wanna starve.