November 6, 2018 - 4:13pm
In the same way he proposed, husband surprises wife with roadside signs for 25th anniversary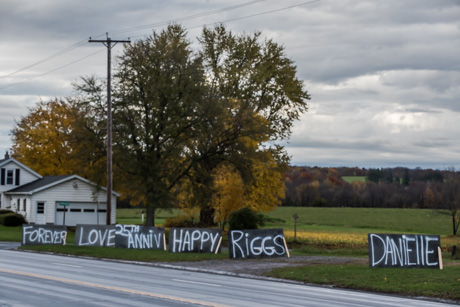 Kevin and Danielle Riggs, of Alexander, are celebrating their 25th wedding anniversary today and Kevin told her he loved her the same way he proposed to her back in 1993, with hand-painted signs posted on southbound Route 98.
Then, the 22-year-old Danielle Yaple would see the marriage proposal signs on her way home from work at Graham Manufacturing. This morning, her family concocted a reason for her to drive to Batavia so she would see the signs on her way back to Alexander but Danielle changed her mind about the trip and so her mother had to convince her to take a drive with her.
It worked. Danielle saw the signs.
"She did not expect it," Kevin said. "It was a great surprise. She called me up sobbing with makeup running down her face."
Today, Danielle is the village clerk in Alexander and Kevin still works for Kelly Schultz Auctions and Antique World in Clarence. They have three children, two sons and a daughter, who is 17 and a senior at Alexander High School.  
Kevin and Danielle plan to go out for an anniversary dinner next week.