October 12, 2016 - 11:29am
Indian Falls Log Cabin Restaurant, 1227 Gilmore Road, Corfu, Tender Loving Care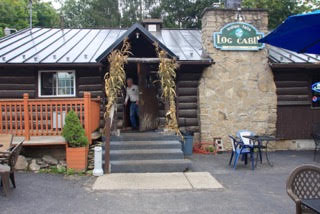 Amanda Owczarczak, Owner
Indian Falls Log Cabin Restaurant
1227 Gilmore Road, Corfu
Tender Loving Care
Article by Tony Kutter
The Log Cabin Restaurant is located on land overlooking the Tonawanda Creek Indian Falls. It was part of the Tonawanda Indian Reservation until 1857.
In 1826, a grist mill was built on this location and was run by William Parker, father of Ely S. Parker, aide to General Ulysses S. Grant during the Civil War. It was the only grist mill in the Holland purchase run by Native Americans.
In 1879 the Gilmore Mill was built on this location. During the 1930s an addition was built on the crumbling mill and it served as a refreshment stand.
In 1940 Clayton Betzold and Ken Hodgins bought the mill and tore it down. They built a log cabin restaurant on the mill's original foundation. At one point it was named the Falcon Crest.
Originally they wanted to have a dance hall, restaurant and entertainment center in conjunction with near by Boulder Amusement park.
To build a log cabin they had to timber pine logs from area forests. It requires sturdy timbers in lengths long enough to support a roof which had to be straight and not tapered in diameter. It was uniquely constructed with mortar between logs. It has been said that there were Indians who built log cabins on the Reservation who instructed locals on construction techniques.
What is most fascinating about this log structure is its construction similar to cabins built in the 18th and 19th century, not from factory hewn boards. Logs were usually notched and stacked on top of one another, but they did not rest against one another. The next process was called chinking the logs. Materials used earlier between logs varied from clay, straw paper, and cloth and even dried animal dunk. This effectively sealed the interior from exposure to the elements. In the past century, log cabin construction methods utilized mortar mix similar to what was used to lay bricks or cement block.
Today most log cabins are built with log siding. One owner added an addition on the west side using log siding. However we are fortunate that the original owners in 1940 built it using the construction methods of 100 years prior.
The current owner, Amanda Owczarczak, purchased the restaurant in 2009. An outdoor deck was added to the front of the building in 2013.
For decades, the Indian Falls Log Cabin Restaurant has attracted diners from all over western New York because of the unique environment along the Tonawanda Creek; the beautiful, scenic view of the waterfalls; and the rich history of the property.
Tony Kutter