Image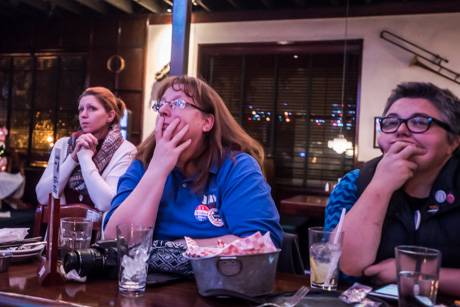 As Nate McMurray appeared on TV just after 11 o'clock tonight, a couple of local Democrats at Center Street Smoke House for election night noticed McMurray didn't look happy.
The room turned glum.
"Don't concede, Nate," one of them said.
That's was what McMurray was about to do.
With 94 percent of the precincts reporting in the New York 27th Congressional District, Rep. Chris Collins held at 2,697 vote lead, a 49.5 to 48.4 percent margin.
In Genesee County, Collins won with 2,837 more votes, 53.8 percent to 39.91 percent, or 10,986 votes to 8,149.
These are unofficial vote totals, not yet certified and do not include absentee ballots.
Reform Party candidate Larry Piegza picked up 598 votes locally, or 2.93 percent, which was fewer votes than the 651 ballot line for the 27th blank.
McMurray did beat Collins in the City of Batavia, 2,219 votes to 1,821.
The NY-27 is a 22-point Republican advantage and McMurray, a Democrat who is town supervisor in Grand Island, still managed to make it a close race, primarily because Collins has spent much of the past year under the cloud of an ethics investigation and was arrested Aug. 8 on federal charges related to alleged insider trading. 
Also in Genesee County, the controversial ballot measure to stagger and extend terms in office members of the County Legislature passed 9,508 votes to 8,981.
In contested races, Barbara Czworka won the Town of Bethany Highway Superintendent election over Michael T. Adams, 440 votes to 289 votes. For Town of Alexander Justice, Mark Anderson beat Nicholas Falcone 775 to 757. (CORRECTION: This was a vote-for-two election. Anderson and Falcone both ran unopposed, not against each other.)
Gov. Andrew Cuomo did not fare well among Genesee County voters, getting only 4,982 votes to 13,397 for Marc Molinaro. Larry Sharpe received 1,201 votes locally. Howie Hawkins got 252 and Stephanie Minor, 188.
UPDATE 12:28 a.m.: McMurray issued the following statement:
"While tonight's results are disheartening, my fight for a better Western New York and a better United States will not end. This is my home, and I believe we deserve better than a Congressman under indictment and out on bail, but I also respect the will of the voters, and they have spoken. This campaign was a part of a movement to fight for the rights and leadership that we deserve as Americans. Tonight's result is a setback, but we will never give up."
UPDATE 12:53 a.m.: McMurray just issued a new statement demanding a recount:
"After examining the numbers, the margin is 1 percent and the will of the voters must be heard. We are demanding a recount. Mr. Collins is going to need another set of lawyers."
We'll have more election coverage sometime tomorrow.
Top photo: Democrats watch Nate McMurray's concession speech at Center Street.