April 27, 2016 - 11:21am
Jacquetta Simmons taken into custody on 18-month-old harassment warrant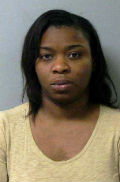 Jacquetta Simmons
More than a year after a warrant was first issued for her arrest, Jacquetta Bernadine Simmons, who first made international news after punching a Walmart cashier on Christmas Eve in 2011, is back in custody.
Simmons was picked up by Rochester PD last night and turned over to Batavia PD on a warrant for an alleged incident at a church meeting in Batavia in October, 2014.
The warrant was issued Oct. 20, 2014, but information wasn't released until January. 
Simmons, 30, allegedly made some sort of physical contact with a 54-year-old woman.
She is charged with second-degree harassment.
The meeting reportedly involved church members at a business meeting being held at the YWCA, 301 North St., Batavia.
Simmons was convicted in August 2012 of assaulting a 70-year-old cashier at Walmart and later sentenced to five years in prison, but that sentence was later overturned on appeals and she was given a year in jail. She was also ordered to pay restitution, which became the subject of several court appearances as she appealed the amount and sought modifications to the payment plan.
Simmons, held on $300 bail, is scheduled to appear in City Court at 1 p.m. today to answer to the harassment charge.
April 27, 2016 - 1:19pm
#1
She must be trying to fill some kind of AARP Punch Card.
April 27, 2016 - 4:04pm
#2
Is it just me or do our judges not see that this woman is a menace, and has some kind of anger issues. What are they afraid of ..... maybe her retaliation.