June 17, 2019 - 12:41pm
John Kennedy students honor veterans and military members at Flag Day ceremony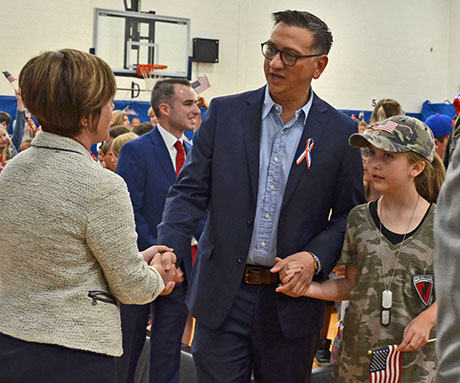 For Flag Day on Friday, John Kennedy School honored veterans who are family members of students at the school, which including David Bellavia (top photo), who will receive the Medal of Honor in a ceremony at the White House on June 25.
The assembly included the Batavia High School Brass Ensemble performing the National Anthem by the flagpole during the raising of the flag.
There were patriotic activities and classwork throughout the day.
The closing ceremony in the afternoon included local veterans and active military members. The assembly included patriotic songs, a reading of the names of veterans, the announcement of winners of the student costume contest.
Winners included Keyon Morris, Jonah Arroyo, Keaton Corcoran, Aristina Reidel, Blake Samuelson, Isla Wolff, Mason Bohn and Camden DeMena.
Photos and information provided by Batavia City Schools