November 1, 2017 - 12:32pm
K9 team joins Village of Corfu PD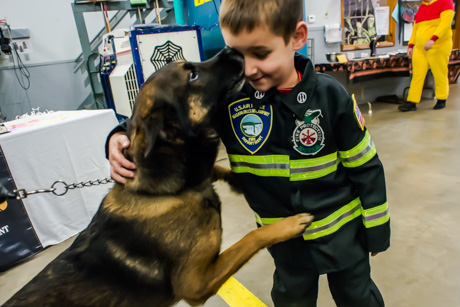 Given the expense of buying and training police K9s, you wouldn't expect a small village like Corfu to have a K9 officer, let alone a handler with two dogs. In fact, just a couple of years ago, Corfu residents wondered if they would even keep their police force.
But a loss for one village is a gain for another.
Officer Anthony Bartucca, with 27 years experience in law enforcement and K9s "Rocco" and "King" by his side, became available to Corfu after the Village of Lyons dissolved and shut down its police department.
"We're very blessed that this situation came up," said Mayor Biggs Johnson. "It's not a situation where we had to go out and purchase a K-9 or pay for the training. He's already got certifications. We just have to maintain the training."
Rocco is an advanced drug-detection dog who can also perform tracking and trailing duties. King sniffs out explosives and weapons.
"Rocco will sniff out all drugs known to man, including pharmaceutical drugs, which you know is now more prevalent than street drugs," Bartucca said.
The K9 team joined the 14-officer police force five weeks ago; all are part time.
Rocco, 6 1/2 years old, is a Belgian Malinois and German shepard mix, and 2-year-old King is purebred German shepard.
Johnson thinks the team will have a region-wide impact, given Corfu's nexus at major traffic arteries -- Route 77 and Route 33. Johnson said he's concerned both about drugs and human trafficking passing through the area.
"I know we're a small village, but because of where we are, where we're located in close proximity to the Thruway, I think we can do quite a bit to help curb a lot of that activity," Johnson said.
Rocco was a big hit at Corfu's Halloween party last night. He was super friendly, eager to meet every person that came his way.
"He's a big lovey until I tell him not to be," Bartucca said.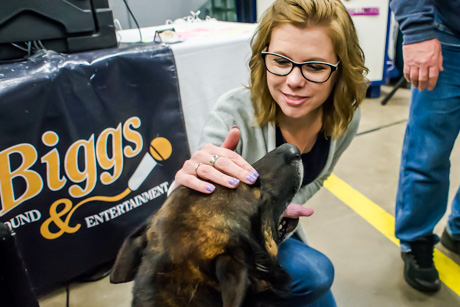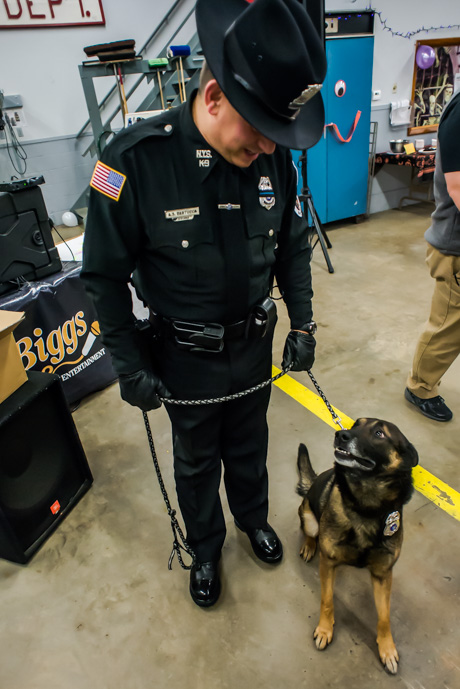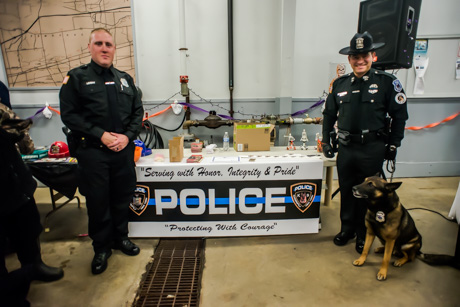 The Village of Corfu PD has a new motto: "Serving with Honor, Integrity & Pride; Protecting with Courage." Officer Cameron Leight on the left.
November 1, 2017 - 9:14pm
#2
David. Does a human who's being "trafficked" smell different from other?
"Rocco will sniff out all drugs known to man...".
Huh? If that IS true, while I highly doubt it, I hope Corfu has deep pockets. How long before somebody is pulled over, let's say for discussion's sake, for having a non-working taillight. So, the officer approaches the vehicle and asks for license, registration and insurance. The driver acts "flustered", and starts frantically searching for their "papers". The officer notices the driver's demeanor, then notices that the driver's eyes are a little bloodshot (because the driver suffers from "hay fever", unbeknownst to the officer).
So, he/she starts questioning the driver. "I see you're acting a little fidgety, ma'am. Is there something going on that I should know about? I mean, I only stopped you for a taillight not working, and you seem to be all shook up about it. And, I notice that your eyes are bloodshot. Have you been drinking tonight? No? Is there anything in the vehicle that I should know about? You don't have any knives, guns or bombs in there, do you? No? How about illegal substances? No? Would you mind stepping out of the vehicle for me, please? Just for MY safety, ma'am.
So, the driver gets out, and, at this point, is extremely "shaken up". They were merely driving home after a grueling day at work, and now they're being questioned about drugs and bombs and such? And then they're being asked to get out of the vehicle? They have no idea what's going on, and now, they're even more nervous.
So, the officer continues. "In my experience, people don't normally act this way, ma'am, simply because of a taillight being out. I'm going to ask you if you'd mind doing a field sobriety test for me."
Which, the driver does. And, SURPRISE OF ALL SURPRISES, doesn't do well on.
Think it's easy? Try standing on one foot, with your arms down to your side, lifting you foot approximately 6-inches off the ground. Now, as the officer will explain to you, "keep the lifted foot horizontal with the ground" (not pointing up - which isn't that easy to begin with), "and begin counting like this, one thousand one, one thousand two, one thousand three, until I tell you to stop". (And, don't forget, you're not supposed to use your arms for balance - that's a no-no). I've watched officers on A&E's "Live PD" show have drivers reach one thousand forty-five before they said, "OK, stop".
So, the officer calls for both, the K9 and a Drug Recognition Expert (DRE). Fifteen minutes later, the K9 officer and the DRE show up, The K9 officer runs his dog around the vehicle, and, meanwhile, the DRE performs his "tests".
VOILA! The dog detects SOMETHING in the vehicle. So, now they have probable cause to search your vehicle. Which they do. They spend the next half hour rummaging through the vehicle until they come across the culprit. Two 80mg tablets of "heart healthy" Bayer aspirins that had fallen under the seat.
If the driver is lucky, they let her continue on her way. If she ISN'T so lucky, the DRE says that, due to HIS experience and training, and, his observance of the motorist's bloodshot eyes and demeanor, he believes that she's on "some kind" of illegal substance. They place her in handcuffs, take her to the station and/or hospital for further investigation, and, impound the vehicle.
Don't think it can happen? It can, and, it has. I give you Cobb County (GA) officer, T.T. Carroll. Officer T.T.Carroll is (was) Georgia's "top-rated" Drug Recognition Expert. (from http://reason.com/blog/2017/05/12/georgia-pd-our-drug-recognition-experts )
Katelyn Ebner filed an internal affairs complaint after passing a drug test, but said Cobb County investigators insisted "the test results come back wrong all the time." She said investigators told her a urine test would have come back positive. Ebner says she took a urine test, which came back negative, herself.
And, from http://www.11alive.com/article/news/investigations/the-drug-whisperer-dr... ,
[11Alive News Chief Investigator Brendan Keefe] asked Ms. EBNER, "Before you felt the handcuffs closing over your wrist, did you understand just how serious this was?"
She replied, "I didn't understand,". "As soon as I took that breathalyzer, I thought I was going home."
The waitress spent the night in jail, had her alcohol server's permit revoked because of the arrest. After four months, prosecutors dismissed all her charges -- because the blood test came back completely clean.
"You had to spend months -- and thousands of dollars -- proving your innocence," Keefe said.
"I did," Ebner said.
And, Ms. Ebner wasn't the only INNOCENT victim of Officer T.T. Carroll. 11Alive News uncovered at least 2 others - and, we will probably never know exactly how many there were.
I remember reading several articles about Officer T.T. Carroll, the "top-rated" DRE in Georgia. One of them even quoted Officer Carroll's police chief, saying he trusted Officer Carroll's judgement more than scientific medical test, when it came to drug recognition.
As I said, I hope Corfu has deep pockets, because there may come a time when they are sued for over-zealous law enforcement. Especially if that K9 can " sniff out all drugs known to man". As the dog, I'm assuming, doesn't know the difference between which ones are legal, and, which ones aren't, I forsee some problems.