September 18, 2015 - 8:53am
Landmark Society to present awards to five buildings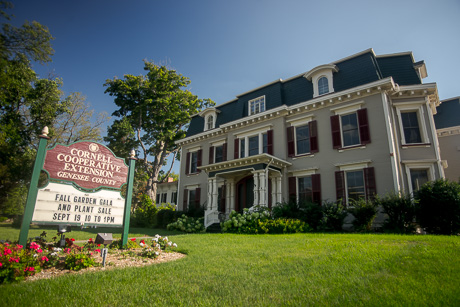 The Landmark Society of Genesee County is presenting awards to five local buildings for preservation or restoration work at its annual dinner tomorrow night. Dinner tickets are $15 and it starts at 6 p.m. at the Elba United Methodist Church.
The five winners are:
Tender Loving Care: Adam Miller Toy and Bicycle, 8 Center St., Batavia
Restoration: residence at  5211 Watson Road, Elba
Tender Loving Care: Cornell Cooperative Extension , 420 E. Main St., Batavia (top photo)
Interior Preservation: Corfu Grange, 73 Alleghany Road, Corfu
Tender Loving Care: residence at 32 Tracy Ave., Batavia
(Photos by Howard Owens, except interior of grange hall)
Press release:
This year's honorees have each spent decades preserving and maintaining their historic properties. Their conscientious care has improved their neighborhoods and helped preserve our county's architectural history for future generations.

Adam Miller was the second owner of the building that houses Adam Miller Toy and Bicycle store at 8 Center St., Batavia. He owned and operated the store for over 30 years before passing ownership to his children, Joyce Masse and A. Gary Miller, in the late 1970s. They still own the building today, but in 2002, sold the retail business "Adam Miller Toy and Bicycle" to John and Cathy Roche. The distinctive neon sign was installed in the mid-1950s on the front of the building and was restored in the 1990s. The Miller family and the Roches are being honored for the Tender Loving Care they have given this beloved Batavia landmark.

When Michael and Alison Riner bought and inhabited their Greek Revival farm house in Elba, it was quite dilapidated. The home had been vacant for years and didn't even have running water. One vision, 20 years, and a lot of construction later, it is now a charming, immaculate home for their family. The Riners have ingeniously blended original architectural features with modern conveniences.    

For over 60 years the Cornell Cooperative Extension of Genesee County has taken excellent care of this historically and architecturally significant building that houses their offices. The Tender Loving Care they have given their 1820s property has greatly added to the streetscape of Main Street, Batavia.

Charles and Mary Brenner have spent over 30 years maintaining and restoring their "Princess Anne" style home on Tracy Avenue in Batavia. They have performed all of the work themselves and it has truly been a labor of love. They stripped all of the paint from the interior woodwork to reveal the natural beauty of the wood. Using a palette of eight different colors, the home's exterior has been painted so that its unique features stand out.

Corfu Grange #142 was founded in 1874 and the meetings were held in the homes of its members. In 1914, the Grange purchased the Universalist Church. Then in 1939, the building was moved across the street to the present location. The curved beadboard ceiling and original gaslight fixtures are notable features of this well-preserved interior space.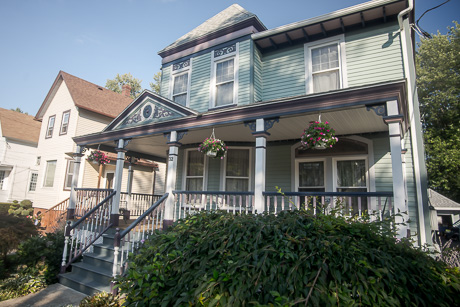 32 Tracy Ave., Batavia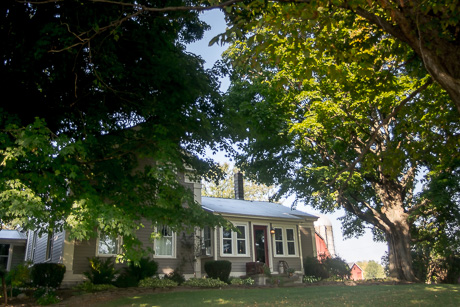 5211 Watson Road, Elba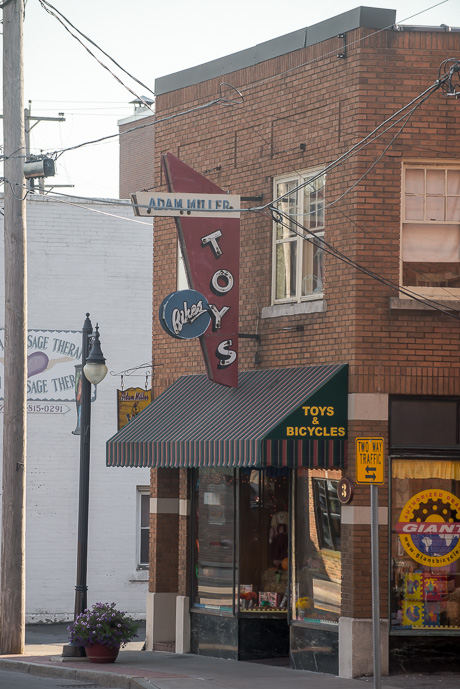 Adam Miller Toy and Bicycle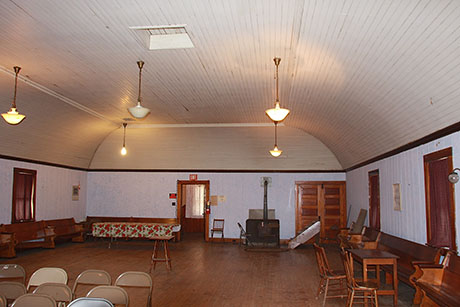 Corfu Grange