January 19, 2017 - 12:39pm
Latest version of county's Smart Growth Plan ready for legislative review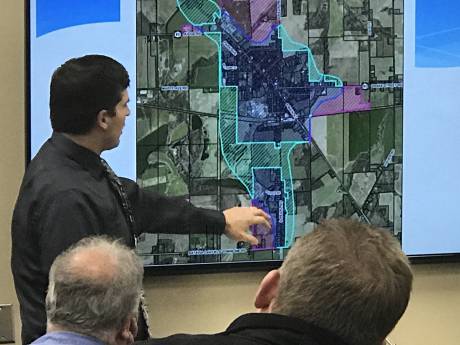 Up next for the county's tri-annual update to our Smart Growth Plan is a presentation Feb. 13 to the Public Service Committee of the Genesee County Legislature.
Planning Director Felipe Oltramari and planning staff have toured the county, providing interested residents at town-hall-style meetings information and maps outlining the proposed changes to the plan.
The final such meeting was Tuesday at the community center in Oakfield and covered the proposed plan for Oakfield and Alabama.
The goal of the plan is to protect farmland from suburban-like sprawl and guide population centers toward a denser, mixed-use, more pedestrian-friendly environment.
These are the types of communities younger generations of families and workers are looking for, Oltramari said. Younger families want to have more amenities and services within walking distance of their homes and have a stronger sense of neighborhood than offered by traditional suburban development where all lots are the same size, all homes have the same floor plan and residents come home from work, pull into their garage and never say "hi" to a neighbor.
The plan for Oakfield (pdf) includes allowing development along Pearl Street out to Batavia Oakfield Townline Road.
In response to a resident's question, Oltramari suggested this area is well positioned for the kind of denser, mixed-use, walkable neighborhood many people want these days.
A resident brought up a decades-old housing development in Le Roy that is more than a mile outside of the village and noted residents just drive to Tops, and "what's wrong with that?" and Oltramari said those are the kind of developments that contribute to the decline of villages such as Le Roy.
Islands of suburban-like development tend to encourage people to move out of older villages and don't bring in new residents, he said, and then the old Victorian homes in the village become multi-unit rentals.
"What happened along with that is their downtown died," Oltramari said. "A lot of people who used to walk into the shops, a lot of families whose kids used to walk to school and go downtown are not there anymore. They're being bussed and they're being driven and a lot of people who live in the village are transient people. There are consequences to doing that, but when you build little neighborhoods, you tend to attract people from the outside."
The Smart Growth Plan contemplates new homes being built that fit into a hamlet's or village's character (differing lot sizes, different architectural treatments), but helps keep homes clustered around the village, which will encourage rehab of the remaining older homes.
For Alabama (pdf), growth could mean a demand for more housing, but instead of converting farmland into housing tracts, the plan is designed to grow the existing hamlet into a village.
None of this -- like any planning document -- is written into stone, Oltramari noted after Tuesday's meeting. There are processes to override the plan, but those are difficult barriers to overcome. A town's board, the county planning board and the County Legislature would all have to approve a development not fitting in the current development boundaries, and if that happened there would be legal challenges.
The Smart Growth Plan development process dates back to 2001 and was part of the agreement to bring Monroe County Water into Genesee County. The county is required to update the plan every three years in order to continue to expand the public water supply flowing from Monroe County Water.
There are future funding mechanisms dependent on abiding by the plan, and the Sierra Club is on record, Oltramari said, of claiming it is prepared to file a lawsuit if the county doesn't develop and abide by the plan to protect farmland.
For more on the Smart Growth Plan, and to view maps for each community that outline development areas, click here. The Feb. 13 meeting, likely to start at 4:30 p.m. at the Old Courthouse, is open to the public.
January 19, 2017 - 4:43pm
#5
Well, obviously there was a code rift in my original message that was causing it to be chopped short... let's try this one more time.
---------------------------------------------------------------------------------------------
The plan for Oakfield [my original hometown] is to develop S Pearl St out to Bat/Oak TLRd... and the purpose for this is... to create a "denser, mixed-use, walkable neighborhood"... WALK TO WHERE? Oh, I guess Mr Oltramari told us in the previous paragraph... "Younger families want to have more amenities and services within walking distance of their homes". So I ask again, what amenities are these dense families on S Pearl St supposedly going to walk to? School [2-2.5mi]?, WalMart [4.5-5mi]?, maybe the Paradise Bowling Lanes [.1-1mi]?, ahhh now we're making progress.
Then there's the "Hamlet" of Alabama... "grow it into a Village"? And what "walking distance" advantages are available there? Holly Farms?, Alabama Hotel?, [BTW both businesses which are most worthy of patronage, but I wouldn't build a home close enough just so I could walk there]. Hold on... I almost forgot, that building a home in the Village of Alabama would allow working members of the families there to walk or ride a bicycle to work at 1366 Technologies.
Perhaps these grand ideas of expansion don't make sense to me because I'm getting old, but FWIW most fellow Oakfield/Alabama acquaintances I have who still live there, like it the way it is... a rural, mostly farming community. That's why they live there. But the progressive planners have the obvious goal of generating more tax revenue. Why? So they can spend more tax revenue. If they only would accept the reality that the tax burden in NYS is the #1 reason why their illustrious schemes to "grow" the population [tax base], is not happening, and not likely to. In the last six years, New York State has lost more people than any other state.
If they can't grow Batavia with all the GCEDC efforts [mostly which are failed or faltering], then leave Oakfield, Alabama, Elba, Byron, Pembroke, etc alone. We kinda like it the way they are.