June 22, 2018 - 1:11pm
Law and Order: Batavia resident accused of participating in thefts from Walmart in Warsaw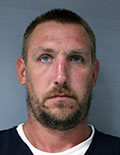 Donald Stahl
Donald W. Stahl Jr., 37, of North Street, Batavia, is charged with grand larceny, 3rd, grand larceny, 4th, petit larceny and three counts of conspiracy. Stahl was arrested by the Wyoming County Sheriff's Office and is being held in the Wyoming County Jail on $5,000 bail. Stahl is accused of participating with others to steal electronic and computer items from the Walmart in Warsaw. The investigation is ongoing and additional arrests are pending. The investigation was conducted by Sgt. Colin Reagan, Deputy Aaron Chase and with the cooperation of the Genesee County Sheriff's Office, including Investigator Chris Parker, Deputy Erik Andre, and Sgt. Jason Saile, along with Walmart Asset Protection employees.
William G. Schultz Sr., 44, of Ross Street, Batavia, is charged with criminally using drug paraphernalia and unlawful possession of marijuana. Schultz was spotted by members of the Local Drug Task Force on Jackson Street on Wednesday evening. He was wanted on a family court warrant. While being taken into custody, he was allegedly found in possession of drug paraphernalia and marijuana. He was ordered held in jail on $1,000 bail.
Malik Austin Hambrick, 21, of Aswego Avenue, Fort Drum, is charged with criminal trespass. Hambrick allegedly entered the Darien Lake Theme Park at 12:20 a.m. Monday following previously being removed from the property by Darien Lake security.
Jeffrey P. Klyczek, 49, of Amherst, is charged with DWI and driving with a BAC of .08 or greater. Klyczek was stopped by State Police in the Village of Corfu at 11:39 p.m. Tuesday.
Joseph F. Chiodo, 35, of North Tonawanda, is charged with DWAI (combined drugs and alcohol), DWI with a child in the car, and endangering the welfare of a child. Chiodo was stopped by State Police on Route 33, Town of Pembroke, at 12:23 p.m. Wednesday.