February 2, 2018 - 12:21pm
Law and Order: Corfu woman accused of starting fire that destroyed Harley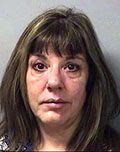 Jacqueline Saeli
Jacqueline M. Saeli, 52, of North Lake Road, Corfu, is charged with two counts of third-degree arson and one count of second-degree criminal mischief. Saeli is accused of starting a fire at 5:33 a.m. Jan. 6 at 8455 North Lake Road, Pembroke. The fire destroyed a shed and a Harley-Davidson motorcycle. Investigators say the shed and motorcycle were the property of her ex-boyfriend. The incident was investigated by Deputy Ryan Young, Investigator Christopher Parker, with assistance from the Pembroke Volunteer Fire Department and the Emergency Management Office. Saeli was arraigned and released under supervision of Genesee Justice.
Darcia Marie Golda, 46, of West Main Street, Batavia, is charged with third-degree grand larceny. Golda is accused of stealing more than $31,000 from her employer, Rite Aid, at 4155 W. Main St., Batavia, between October 2016 and September 2017.
David Allen Gurgir, 56, of Hulberton Road, Holley, is charged with two counts of conspiracy, 4th, and four counts of conspiracy, 5th. Gurgir is accused of working with two accomplices to purchase a truck and complete all of the associated paperwork under false pretenses.
Daniel L. Schmiegel, 32, of Basom, is charged with two counts of criminal possession of a weapon, 3rd. Schmiegel is accused of possession of an assault rifle and an ammo clip. Schmiegel was arrested by State Police. No further details released.
Maurice G. Leach, 41, of Batavia, is charged with resisting arrest, unlawful possession of marijuana, endangering the welfare of a child, fleeing a police officer in a motor vehicle, 3rd, aggravated unlicensed operation, using a vehicle without an interlock device, reckless driving. Leach was arrested by State Police in relation to an incident reported at 8:42 p.m. Thursday. No further details released.