April 25, 2018 - 11:16am
Law and Order: Rochester man accused of stealing purse, credit cards in Le Roy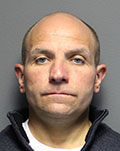 Jessie Polito
Jessie P. Polito, 40, of 407 Frederick Douglas Street, Rochester, is charged with three counts of grand larceny, 4th, and one count of petit larceny. Polito was arrested following a lengthy investigation by Le Roy PD into a stolen purse in the Village of Le Roy and use of credit cards in the purse in Monroe County. Polito was identified as the suspect through video surveillance as the user of the cards and a warrant was issued for his arrest. Polito turned himself into Le Roy PD.
Olivia Nichole Smith, 21, of School Street, Batavia, is charged with driving while impaired by alcohol and drugs, possession of a forged driver's license, and open container. Smith was arrested after Deputy Ryan DeLong responded at 11:30 p.m. Friday to Route 33, Bergen, to a request to check the welfare of a person on a roadside vehicle.
Richard Sampel, 48, of Batavia, is charged with criminal contempt, 1st. Sampel was arrested by State Police based on a report at 10:17 p.m. Tuesday, in the Town of Alabama. No further details released.
Chelsea E. Vercruysse, 21, of Medina, is charged with unlawful possession of marijuana. Vercruysse was stopped by State Police at 9:12 p.m. Monday on Route 63 in Batavia.