January 28, 2018 - 2:39pm
Le Roy Fire names Firefighter of the Year, honors dedication of volunteers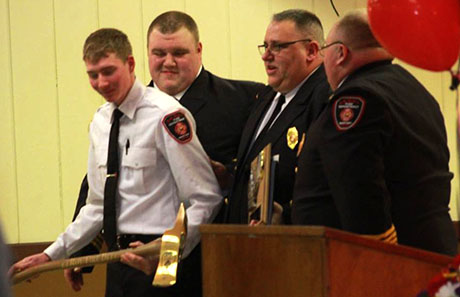 Firefighter Kevin McCrary was named Firefighter of the Year for the Le Roy Volunteer Fire Department by Chief Tim Hogle at the department's annual dinner on Saturday night.
McCrary was honored for his work ethic and dedication to the department, Hogle said.
Hogle said the department responded 419 calls in 2017. Tom Wood, first assistant chief, was the top responder for the year, responding to 303 calls.
During March and April, the department responded to 75 calls during power outages in the Village of Le Roy. All of the volunteers who responded to those calls were honored with the Chief's Award.
They are: Thomas Wood, Christina Marrinaccio, Dave Ehrhart Sr., Joe Orlando, Jerry Diskin, Anthony DeFelice, Rick Bater, Bill Wood, Kenneth Davis, Craig Johnson, Dale Ehrhart, John Johnson, Brandon Connolly, Michael Green, Burt Manley, John Hurd, Terry Kanaley, Stephany McVicker, Wendy Johnson, Josh Pfendler, Melisa Suriidge, Jeff Freeman, David Ehrhart Jr., Jared Chick, Scott Newman, Kevin McCrary, Justin Connolly, Elijah Flansburg, Pete Loftus, Mike Miller, Leeanne Miller, Christie Main-Miller, Donna Kanaley, Laurie Bater, Kathy Wood, Elise Lauricella.
A Special Commendation went to DEC Officer Fay Fuerch, Le Roy Police Officer Greg Kellogg, and Firefighter Rob Radley. Fuerch, Kellogg and Radley were first on scene for a cardiac arrest in Le Roy at the Save-A-Lot. The responders provided first aid and attempted to save the woman's life. Their efforts helped keep the woman alive long enough for her only remaining son to arrive home and say goodbye to his mother.
The firematic officer for 2018 are Tim Hogle, chief, Tom Wood, first assistant chief, Craig Johnson, 2nd assistant chief, Mike Green, captain, Christina Marinaccio, captain, and Anthony DeFelice, lieutenant.
Photos by Rob Radley.